The Royal Yacht Club of Tasmania and Derwent Sailing Squadron will conduct the biggest and most exciting world championship for one-design yachts ever seen on Hobart's River Derwent when they jointly host the SB20 World Championships in January 2018.
(more…)
A fleet of 30 boats, ten more than last year, has entered the ninth annual Derwent Sailing Squadron/National Pies Launceston to Hobart Yacht Race, which starts from Beauty Point on the Tamar River on December 27.
The 285 nautical mile race along Tasmania's north-west coast, then down the east coast to finish in Hobart's River Derwent, has attracted entries from southern and northern Tasmania and Victoria and includes two past overall winners of the Sydney Hobart.
Derwent Sailing Squadron Commodore Steve Chau officially launched the 2015 at a barbeque gathering of skippers, crews and their families at the Squadron's Sandy Bay headquarters on Sunday afternoon.
The official opening underlined one specific attraction of this 'Tasmanian-grown' race – it is family-friendly time-wise, enabling Hobart-based skippers and crews deliver their boats to the Tamar Yacht Club in mid-December, then enjoy Christmas at home and then travel north by road at a leisurely pace on Boxing Day for the start.
The Mayor of Launceston, Albert van Zetton will start this year's L2H from a line near Inspection Head Wharf, Beauty Point, at 1.30pm pm on Sunday, December 27.
The race will finish off Castray Esplanade, Battery Point, Hobart – the same finish line as the Sydney Hobart and Melbourne Hobart races.
Heading the 30-boat fleet is Gary Smith's Bakewell-White 45, The Fork in the Road, which has taken line honours in the last two races and again favourite to be first home.
However, the biggest boat in the fleet is Mistraal, Jacinta and Brett Cooper's Beneteau 57, a racer/cruiser.
Jacinta will be the only female skipper in the race, heading a team of family and friends.
Sailing with her parents is 11-year-old daughter Jorja Cooper and joining her will be another 11-year-old, Esther Read, whose father Fraser Read is also sailing on Mistraal.
Both girls sail Optimist dinghies at Sandy Bay Sailing Club and have undertaken extended cruises on their parents' yachts.
Bellerive Yacht Club Immediate Past Commodore John Mills and Ian Douglas have entered their Lyons 40. Nexedge, which as Micropay Cuckoos Nest won the IMS overall of the gale-battered 1993 Sydney Hobart.
An earlier winner of the Sydney Hobart and still racing under its original name is Ultimate Challenge. When owned and skippered by the famous Victorian yachtsman Lou Abrahams she won the race in 1989.
Ultimate Challenge, a Farr 40 designed to the old IOR rule, is now owned by DSS member Peter Jenkins and has undergone a major refit in preparation for this year's L2H.
Victoria again will have one representative in the race, the Archambault 31, Remedy, owned by Russell Hibbert from the Royal Melbourne Yacht Squadron.
Smallest boat in the fleet is Hydraplay, designed as a Mini Transat yacht and with a LOA of just 6.4m. Although the little yacht is below the minimum LOA (Length Overall) for the race committee has given owner/skipper Justin Hickey a dispensation because the yacht was designed and built for long ocean passage races, including the Mini Transat race.
The majority of the fleet represent Hobart yacht clubs but there are two entries from northern clubs, David Allan's Sydney 38, Obsession and Lawless, Stephen McElwee's Green 31 both from the Port Dalrymple Yacht Club.
Last year's overall winner under AMS scoring, Steelin Time, is not competing this year, but runner-up and winner of the PHS division, Paul Einoder's Beneteau Oceanis 34, Off-Piste, is in the fleet again, as is Malcolm Cooper's orange-hulled Snook 40, Kaiulani, which won the IRC division in the 2014 race.
Back from Queensland for the L2H is Peter Cretan's Marten 49, Tilt, a yacht with as-yet untapped potential in long ocean racing.
Competing in the L2H after several recent Sydney Hobarts, is Anthony Williams' IMX 38, Martela, which has been sailing impressively in recent Hobart long races.
The yacht that won the inaugural race in 2007, Jeff Cordell's Mumm 36 is again competing – with good prospects of repeating that success. In 2007 she races as Host Plus Executive but Cordell has this season changed the name to B&G Advantage.
For further media information, please contact Peter Campbell, M: 0419 385 028 or E: peter_campbell@bigpond.com
Jeff Cordell's smart-performing Mumm 36 B&G Advantage yesterday showed she will again be a strong contender for top honours in this month's National Pies Launceston to Hobart, possibly repeating her handicap victory in the inaugural race in 1977.
That year the boat, then called Host Plus Executive, won both IRC and PHS handicap categories and took line honours from the fleet of 17.
While she is unlikely to lead the fleet home in this year's 286 nautical mile race from the Tamar to the Derwent, along Tasmania's north-east and east coasts, she will start one of the favourites for handicap honours.
Several yachts entered in the ninth edition of the L2H which showed their boatspeed and tactical skills in yesterday's Combined Clubs Harbour Series on the Derwent, with B&G Advantage the stand-out.
Yesterday, skipper Cordell and his crew were in top form on a wet, rather windy and certainly cool day on Derwent for the final pre-Christmas Harbour Series, Division 1 and 2 boats sailing two windward/leeward races.
Racing began in a 15 knot south-easter which freshened to 18-20 knots during the afternoon, causing some sail-handling problems for crews.
B&G Advantage took the hat-trick of handicap results in the first race, winning the PHS category from Masquerade (Tony Harman) and X&Y (Toby Richardson), the AMS category from Martela (Tony Williams) and Masquerade and the IRC category from Martela and the Farr 40 War Games (Wayne Banks-Smith).
In race two, B&G Advantage won PHS from Martela and Tas Paints (Ian Stewart) and IRC again from Martela and War Games. The Farr 40 Wired (Stephen Boyes) won the PHS category from B&G Advantage and Mem (M Boutchard and D Kirkland).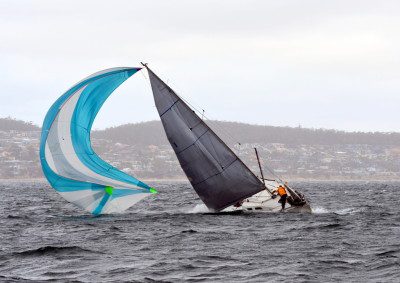 Martela is also contesting the L2H race, taking a break from the longer and time-consuming Sydney Hobart Race while another L2H entrant to win yesterday was Kiaulani, Malcolm Cooper's yellow-hulled Snook 30 which has competed in every Launceston to Hobart race date.
Kaiulani won the one race sailed for Division 6, finishing a close second across the line to Kamehameha (Frank Chatterton) and taking first place on corrected time.
In Division 4, Ian Johnston's Zephyr took line and handicap honours, winning the race from First Light (Ben Davidson) and Serica (Charles Peacock).
Division 1 saw Grahame Inglis' Rousabout score a double, line and handicap, in both races. North Sails (Matthew Morgan) was runner-up in the first race, with Trouble (David Willans) third while in race two Trouble placed second, North Sails third.
Yesterday was the third and final pre-Christmas race day for the Combined Clubs Harbour Series, with one race lost because of bad weather.
The Derwent Sailing Squadron today will launch the 2015 National Pies Launceston to Hobart Yacht Race with a barbeque for the 30 entrants.
The L2H will start from Beauty Point at 1.30pm on December 27.
Peter Campbell
6 December 2015
Australian Sailing's three teams contesting the Para Sailing World Championships rose to the challenge as strong northerly winds caused carnage on Port Phillip yesterday.
The winds, gusting to 30 knots, dismasted boats while others had to call for pumps to prevent them from sinking in the boisterous seas on the bay.
The Australians came through virtually unscathed with London Paralympics gold medallists in the Skud 18 class, Dan Fitzgibbon and LIesl Tesch posting two straight wins and bumping their overall lead,]
Tasmanian Matt Bugg continued his consistent sailing with to third places, not only holding third overall but closing on the leaders in the 2.4mR class.
In the Sonar class, the Australian crew of Colin Harrison, Jonathan Harris and Russell Boaden, contined to build their overall lead with a 1-2 score yesterday.
Consistency is the key to championship success in international yacht racing, and Matt Bugg is following that line perfectly in the International 2.4mR class.
Since an 8th and 9th on day one of the regatta, Bugg's scorecard has been 3-2-3-3 and after dropping his race one 9th he is comfortable third overall with a net score of 27 points.
With six races sailed and five to go, Bugg is certainly well positioned for a podium finish in what is the final selection series for the Rio 2016 Paralympics.
"It was really windy out there and very tough sailing," Bugg said after the race. "In the second race I had a really nice lead, so I'm a little disappointed that I lost that in second upwind leg."
Israeli and American Skud 18 crews fell victim to vicious northerly wind gusts in the second race of the day while the Portuguese 2.4mR sailor collided with an anchored committee boat.
Conditions were particularly challenging for the 2.4mR yachts, with the low freeman and bilge pump were being used by everyone to pump out water that swept over them in the high winds and choppy seas.
Today's racing has been forward with race seven of the 11 race series due to start at 11am instead of 1pm.
ISAF/Peter Campbell
1 December 2015