Exciting SB20 2018 World Championship for Hobart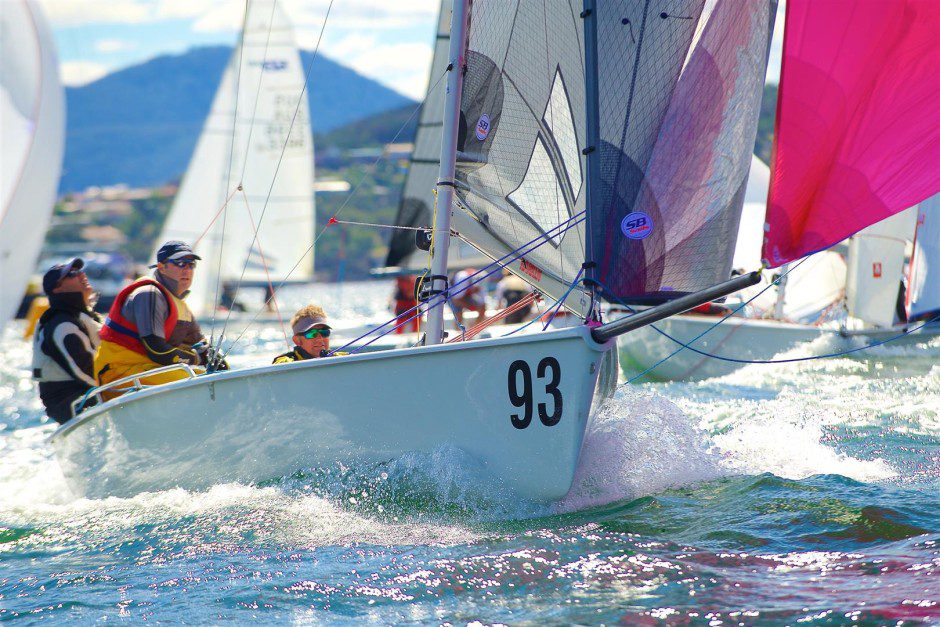 The Royal Yacht Club of Tasmania and Derwent Sailing Squadron will conduct the biggest and most exciting world championship for one-design yachts ever seen on Hobart's River Derwent when they jointly host the SB20 World Championships in January 2018.

Between 80 and 100 of the high-performance SB20 sports boats are expected to contest the Australian National Championship followed by the Worlds, with the event jointly conducted by the two Sandy Bay-based clubs.
Hobart has the largest SB20 fleet in Australia and is now the major one-design class racing on the Derwent, growing to 25 boats in just four seasons.
Commodore Matthew Johnston of the RYCT and Commodore Stephen Chau of the DSS today announced the allocation of the SB20 Worlds to Hobart in 2018 and expansive plans for the huge regatta on the Derwent.
The Hobart event will follow World Championship regattas for the SB20s at two other famous yachting centres, Cascais in Portugal in 2016 organised by the Club Navale de Cascais and Cowes on England's Isle of Wight in 2017 organised by the Royal Yacht Squadron Cowes.
In a joint statement, Commodore Johnston and Commodore Chau said achieving the 2018 Worlds for Hobart and the River Derwent had been a joint effort, led by the RYCT, between two yacht clubs and the SB20 Class Tasmania.
"We listened to the feedback offered following our previous bid and we have worked very hard as a team to present a comprehensive and professional bid to the world organisation," they said.
"We obviously convinced them that Hobart had the land-based facilities (club houses, launching ramps, parking areas etc) as well as the on-water capability to both berth and manage racing for a fleet of this size.
"In fact, we told them we will be able to provide an SB20 worlds that will be comparable to, or better than, any previous event."
"We are campaigning hard to attract a fleet of 80 to 100 boats, with 35 to 40 being 'local boats' from Tasmania which currently has more than 25 boats," the Commodores added.
Commodore Johnston added that when he was competing in the SB20 Worlds on Italy's Lake Garda the message came out loud and clear that we needed to ensure a 'one stop shop' as far as freight and logistics was concerned.
"We have tackled this issue so it will be a door to door service for overseas competitors," he said.
The SB20 Australian and World Championships 2018 will be the only major yachting event on the Derwent at that time of the year allowing full flexibility for the race management team.
Champion Hobart yachtsman Nick Rogers, who introduced the SB20 to Hobart, was elated at the news. "Four years ago I told local yachties that I had found a class that was absolutely perfect for sailing on the Derwent…a boat that does not discriminate, no matter how young or old you are."
Rogers, who is Vice-President of the SB20 Sailing Association of Australia and the Tasmanian distributor for SB20s, is confident he can lift the Derwent fleet to more than 30 by 2018. "I'm shooting for a 100-plus fleet for the worlds," he added with confidence.
The SB20 is a small open keelboat designed by noted Portuguese naval architect Tony Castro for racing with a crew of up to four whose maximum weight must not exceed 270kg.
With a high aspect ratio keel with a very high ballast ratio, the yacht is very stable but also quite fast due to substantial sail area.
The SB20 is unique in that it does not allow hiking upwind, thus allowing crews of all shapes, sizes and ages.
In the Hobart fleet, skippers and crew range from teenagers to middle-aged sailors and include a number of women helms.
Issued on behalf of the Royal Yacht Club of Tasmania and the Derwent Sailing Squadron by Peter Campbell, RYCT media spokesman, contacts:
M: 0419 385 028 E: peter_campbell@bigpond.com
Categories:
Uncategorized