Derwent Sailing Squadron and Kettering Yacht Club's opening event of the yachting season, the Ronald Young & Co Builders Pipe Opener Series, is celebrating its 53rd year on Friday the 17 September 2021.
A firm favourite and most eagerly anticipated sailing weekend, this year's event has been kicked off with record breaking entries.
Growing in popularity, the 16 strong Cruising Division is leading the starting groups for a 3pm start. The very social Division are looking forward to an afternoon start, with much discussion about a "Le Mans" start from the DSS Club! The rivalry between event sponsors, Paul and Lisa Burnell, racing Stella (Beneteau Oceanis 45) and Richard (Fish) Fisher's, Believe (Beneteau First 45), is ramping up to be another match racing spectacular as they hit the start line. The finish is expected to see a "Ronald Young & Co Builders" ruler length between these highly competitive skippers.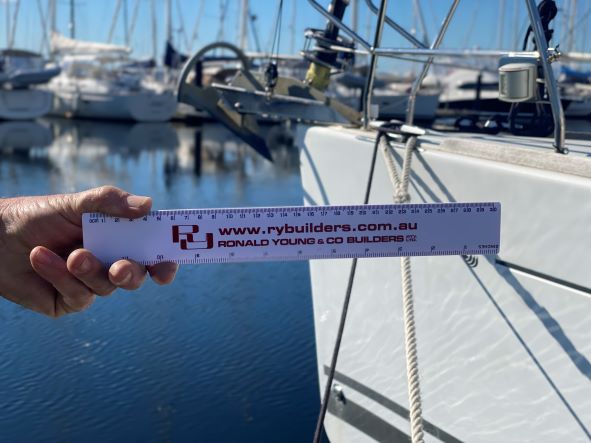 Changes to the race format is expected to see Division 1 and 2 enjoy an earlier finish at Oyster Cove. Starting at 7pm from Castray Esplanade, skippers will be looking for a quick race track as they sail direct to the finish just south of Oyster Cove.
Recognising the sheltered waters of the Derwent River and D'Entrecasteaux Channel, Race 1 of the Pipe Opener is now an event for all sailors. The Friday night race has been revamped, moving away from an offshore Category 3 race. The new DSS Two Capes Race, scheduled for the 27 November, 2021, will introduce the innovation of virtual turning marks to the Combined Clubs Offshore Series.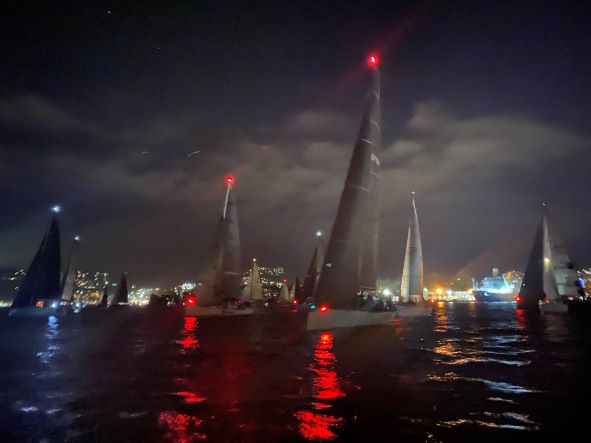 Back to contest his 2020 series win, Ed Psaltis, racing Midnight Rambler (Sydney 36), should expect to have some close competition. Coming off the back of a successful Combined Clubs Winter Series, Drew Latham's, Whistler (MBD 36), is likely to be a hot contender, along with Wayne Banks-Smiths, Wargames (Farr 40), challenging Midnight Rambler for the IRC crown during Race 1 of the series.
Kettering Yacht Club (KYC) Vice Commodore, Brent McKay, will also be one to watch, racing his newly purchased, Jazz Player (Bakewell-White Z39). With a hot young crew McKay will have his eye on the prize as he heats up the competition in Division 1.
With over 47 entries the Oyster Cove Marina will be a hive of activity over the weekend. Saturday afternoon will see the Duggan's Concrete Cove Race, hosted by the Kettering Yacht Club. Leading the charge, with a home town advantage, will be KYC favourites, The Dog House, Talofa and Planet X.
On Sunday the fleet will enjoy a quick morning race from Oyster Cove and finishing at Dennes Point. The outstanding support of the Oyster Cove Marina is being recognised this year as the naming sponsor for race 3 of the series.
The revamped Pipe Opener has proven successful with crews enjoying a great social weekend and a great competitor experience in the sheltered waters of the Derwent River and in the D'Entrecasteaux Channel, making it an event for all sailors.
DSS Vice-Commodore, Will Justo is looking forward to racing his own boat, Groove and is impressed with the calibre of entries. "This is the 2nd year of the new format for the Pipe Opener. Last year was a resounding success and we are excited and looking forward to building upon that success", said Justo.
For race action and results follow the DSS Facebook page.
Words & photos: Colleen Darcey
It's that time of the year when the winter woollies come out in Hobart, the Catabatic wind pushes downward with cool air and the Bridgewater Jerry fog creeps down from the Derwent Valley. Where else would our Tassie sailors rather be when there is a race to be won on an early Sunday winter morning in Hobart!
The Derwent Sailing Squadron will be hosting this weekend's first race and sponsored by long time Squadron supporter Battery World Hobart. With 35+ entries the competition is expected to be strong. The 6 race day series will run from Sunday to 1 August, giving the fleet a great stretch of racing over the winter period.
With a bumper entry list, many of the boats are coming off the back of a successful summer in the Combined Clubs Summer Pennant. "the weather forecast is looking great for Sunday and I am hoping to give the fleet a course which will not only encourage fantastic competition, but also offer a full array of sailing angles" said Ian Ross, DSS Race Officer.
Division one is expected to be hotly contested as Whistler (Drew Latham) tries to match skill and tactics against the longer water length boats of War Games (Wayne Banks-Smith), Guilty Pleasures (Gary Cripps) and Quest (Quest Syndicate).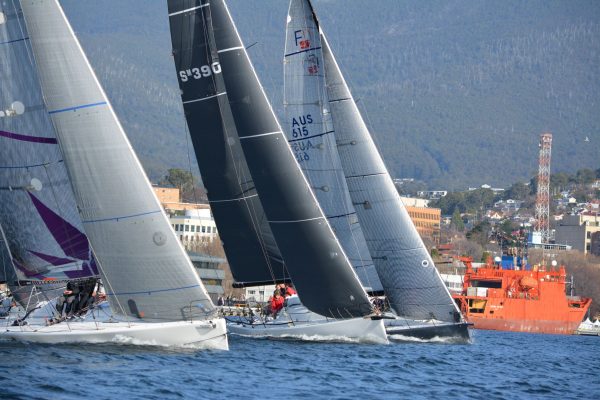 Hildr (Kevin Jacobson) the new J99, will be making her debut in division two. The boat is designed for great sailing performance but also comfort and has already showed her speed in the Combined Clubs Midweek Series.
Division three, will be the one to watch for some close competitive results and healthy rivalry, of mainly 9 metre boats. With four Young 88's in this division, the fleet welcome's back Saga (Chris Sheehan) as Chris "jumps ship" from his Melges 32 to join the fleet to challenge for a podium position.
Graham Hall's, Serenity, is a stalwart of Combined Clubs and will be a strong contender in division four. Another Toy (Michael Kennedy) will be keen to repeat his 2020 Combined Clubs Winter Series winning performance.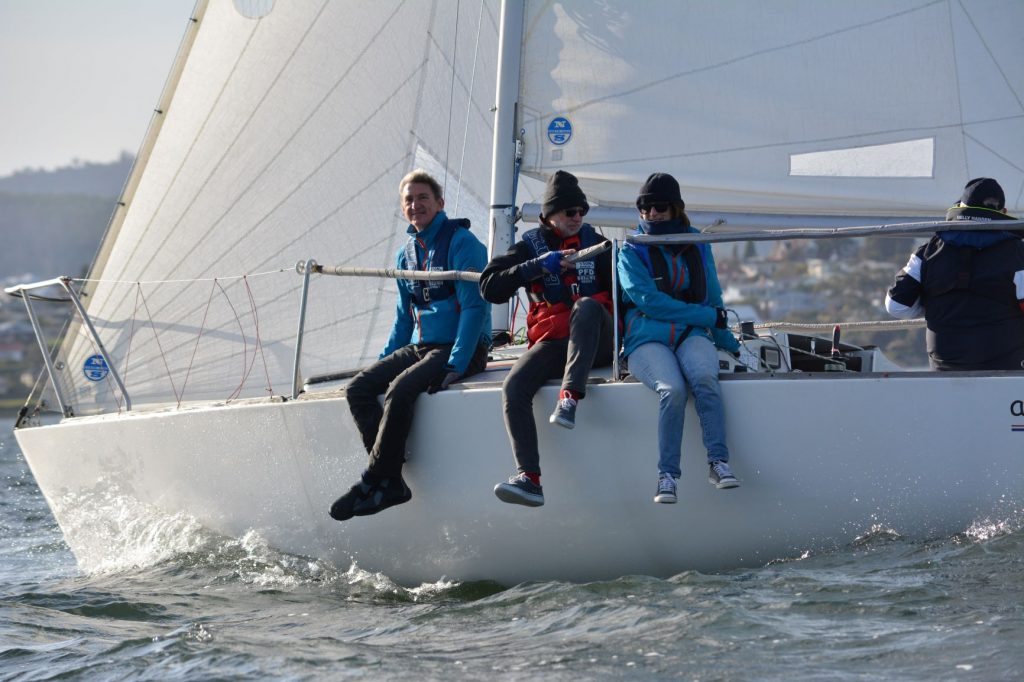 A few fleet regulars who won't be sailing this series will be enjoying the waters of Queensland as they head north. This includes Crusader (Brent Cooper), Willie Smith (Andrew Smith), Illusion (David Brett), Zephyr Insurance Masters (Ian Johnston) and Southern Swordfish (Ian Stewart). Best of luck and we look forward to seeing them back for Summer 2021-22.
Words & Images: Colleen Darcey
Tomorrow's Combined Clubs Summer Pennant Race will be the last local long-distance race for skippers and crews to test their teamwork and tactics before competing in this year's Christmas offshore events, the TasPorts Launceston to Hobart (L2H) and the Rolex Sydney Hobart Yacht races.
Nearly half of this year's 35-boat fleet for the L2H Race has been campaigning in the Combined Clubs Series including Division One boats Oskana (Mike Pritchard), Zephyr Insurance (Ian Johnston), Kraken 42S (Mark Bayles / Amos Wherrett), Fork in the Road (Gary Smith), B&G (Jeff Cordell), Heatwave (Matt Keal), Tilt (Peter Cretan) and Quest (Quest Syndicate). After an agonisingly slow Maria Island Race last weekend, this week's fleet could be facing more frustratingly light conditions with Race Officer Gilbert Leitch likely to send the fleet to Betsey Island or north east Bruny Island.
Frontline (Ian Snape) is leading Division Two on IRC while the competition is hotting up in Division Three with Rumbeat (Justin Barr) and Invincible (Bryan Walpole) both on 13 points on IRC. The two Farr 1104s have had a long history of close racing and will be joined by the Bellerive Yacht Club entrant, Detail First (Scott Broadby), in the L2H with the stage set for a race within a race down the east coast of Tasmania.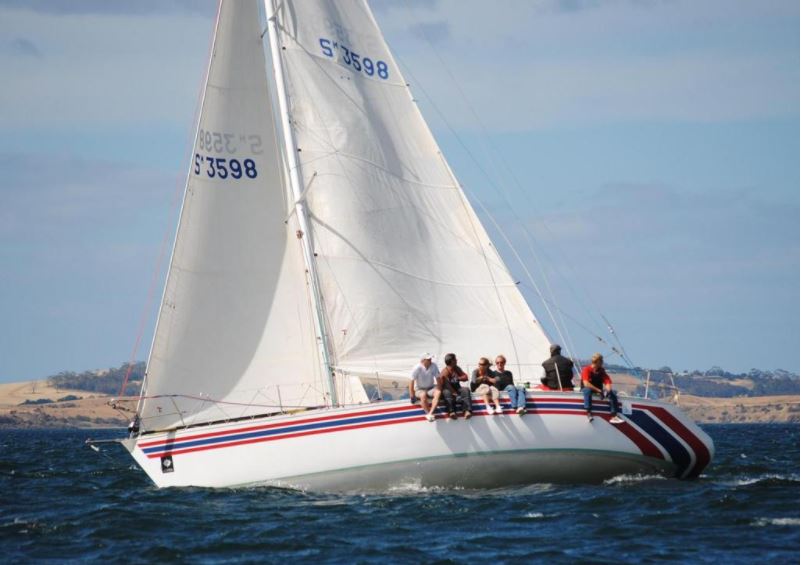 Rumbeat's Justin Barr, who notes how evenly matched the Farr 1104s are on the water, is leaving nothing to chance in his L2H campaign. "We've been using the Combined Clubs racing to introduce new crew to the boat and to test them out in different positions to get them in the right spot for the Launceston race. We are doing lots of sail training and will do a few night sails before our 15 December delivery, just so the crew is comfortable knowing where every control line and string is on Rumbeat," said Barr.
Barr made special mention of fellow Division Three skipper Stewart Geeves and the crew of Footloose for their gritty determination in last week's Maria Island Race. Footloose, a 29-foot Young 88, finished the race in the early hours of Monday morning in what Barr described as an awesome effort deserving of its own prize.
Ingenue (Nigel Johnston) is leading Division Four on PHS handicap from Kindred Spirit (Peter Alcock) and Astrolabe (Peter Bosworth).
Racing starts mid-river at 09:55.
Words and Image: Jane Austin
The River Derwent served up the proverbial box of chocolates to the fleet in the first race of the Combined Clubs Summer Pennant Series. The fleet got away in a 12-knot westerly breeze but the patchy airs and strong current from recent heavy rains, kept the fleet on its toes.
After a short postponement, the Division 1 fleet was tense on the start line with the top contenders including the Melges 32 skippers, looking to the favoured pin end of the start line. With the current pushing the fleet down below the pin, in a brazen move, Brett Cooper came in on port, tossing in front of the other two Melges Assagai (Chris Sheehan) and Andrew Smith (Cockwomble), clearing the fleet to win the start. At least six other boats did not make the mark, peeling off and going around again.
Race Officer Gilbert Leitch set a windward mark for the first mark of the race, offering the fleet an opportunity for more tactical racing off the start line, which was well-received by the fleet, including Cromarty Magellan skipper, Richard Grant. "I really enjoyed the new longer-race format – the variety is excellent and will be a positive for this sailing series," said Grant.
The racing was not without its dramas with Ian Marshall, sailing As Good as it Gets, losing steering near John Garrow light, with the crew making their way to the marina emergency steering.
Fork in the Road (Garry Smith) was first across the line in Division 1 and won on PHS, with Ed Psaltis (Midnight Rambler) winning Division 1 on IRC and AMS.
Boat of the day was Young Lion, with Paul Burnell on the helm, who was first across the line in Division 3 and won on PHS, IRC and AMS.
Frontline (Ian Snape) won on IRC in Division 2 while PHS winners were Pirate's Pride (Peter Masterton) in Division 2 and Camlet Way (Stephen Mannering) in Division 4. Cromarty Magellan (Richard Grant) won on AMS in Division 2.
Full results are available at: https://dssinc-results.org/results/2020/summer/pennant/series.htm
Words and image: Jane Austin
The Ronald Young & Co Builders 52nd Pipe Opener celebrated a hugely successful three day race with the help of Kettering Yacht Club. The race which had been immensely popular with the Hobart fleet saw this year an average of 40 boats competing throughout the event.
Friday night saw Brett Cooper's Crusader take out line honours and winning in both IRC and AMS in Division 1. The Melges 32 has been one to watch over the last few years and this year was no exception with the crew having 5 members under 18 years old.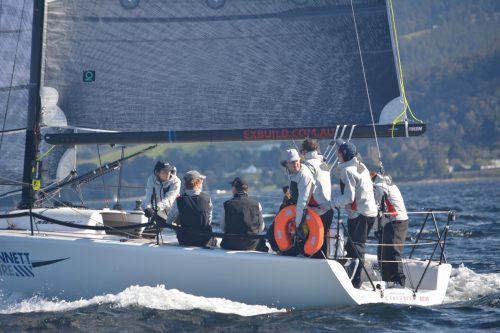 For the first time in Pipe Opener history Derwent Sailing Squadron has created a cruising division which included the ex-America's Cup boat Gretel II, helmed by Steven Shield, which took out both line honours and PHS from the group on the Friday night race.
Saturday's race got off to a fantastic start, with a couple of extra Kettering Yacht Club entries joining the race in a 15-25 knot North-easterly breeze. The spectacular display of spinnakers running down the Bruny Island shore provided the spectator fleet a colorful display as they enjoyed the great Spring weather conditions.
Upon conclusion of the series, the results for PHS Division 1 were taken out by Richard Grant's Cromarty Magellan, a fierce contender from the weekend, placing first with Tony Lagden's Ripper taking first in Division 2. The Cruising Division saw Catheryn Kerr's Almalela take out the series in a tightly contested competition.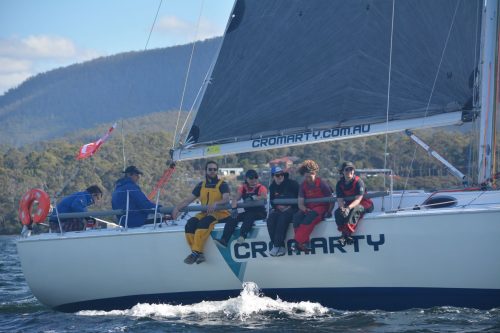 AMS Division 1 was taken out by Ed Psaltis's Midnight Rambler and Mike Church's RQ Six placed first in Division 2 for the series.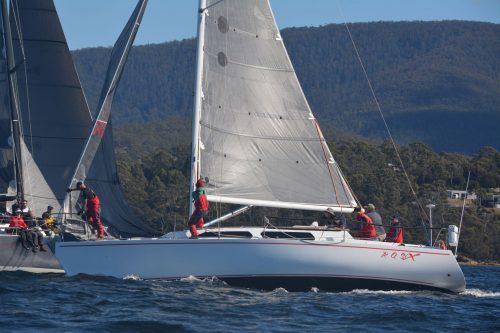 IRC saw great talent with Midnight Rambler again taking out first place in Division 1, closely contended by past Commodore Steve Chau's Young Lion who, following on from success in the Combined Clubs Winter Series, triumphantly continued his winning streak, taking first place in Division 2.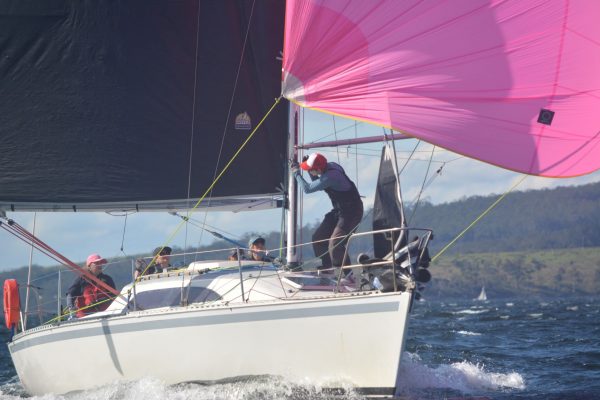 Sunday's race completed the series with huge success and planning for next year's Pipe Opener is already underway.
Words & photos - Annie Oates
The sun came down to shine on the weekend of the Pipe Opener in it's 52nd year. Conditions were beautiful and light in the Derwent River on Saturday morning, not at all similar to Friday night's race with fluctuating winds and large swells.
Co-hosted by the Derwent Sailing Squadron and Kettering Yacht Club today's Duggan's Concrete Cove Cup race was, for the first time, held at the Kettering Yacht Club and with the help of sponsor Ronald Young & Co. Builders, we saw quite possibly the largest turn out in the history of the three day race.
Friday night saw Brett Cooper's Crusader take out line honours in both IRC and AMS in Division 1. The Melges 32 has been one to watch over the last few years and this year was no exception with the crew having 5 members under 18 years old. Indy Cooper at just 14 years old is no stranger to the racing world having been sailing from a young age, as has her sister Jorja Cooper, 16 who has, among other titles, competed in the 2019 SB20 Worlds in France and competed and placed first in the recent Fahan School Regatta. Other underage crew members include Charlie Goodfellow (17), Jack Allison (17) and Howard Tapping (17).
The other notable yacht that took out the IRC, AMS and PHS for Division 2 was Stewart Geeves Young 88 Footloose. For the first time in Pipe Opener history DSS has created a cruising division which included the ex-America's Cup boat Gretel II, helmed by Steven Shield, which took out both line honours and PHS from the group.
DSS Vice Commodore Nick Connor was thrilled with the way Kettering Yacht Club's first year hosting the three day race was going, saying that the new format being inclusive of cruising and family-friendly competitors has been a great success and will continue in the coming years.
"From a Derwent Sailing Squadron perspective, it's a fantastic opportunity for all of our sailors to get down here to Kettering and support all the local businesses who put on a great show for us, we thank them."
Saturday's race got off to a rocky start with Division 4 being let off 5 minutes too early and causing the later Divisions to be postponed, however once the yachts got started we saw a fantastic turn out, with 37 boats overall competing in 15-25 knot North-easterly winds at it's peak.
Two time World Champion Paul Burnell and major sponsor was enthusiastic about the Saturday race, commenting that, similar to Friday nights competition, it looked like it was going to be 'tense, fierce but very fair.' His Beneteau 45, Stella, raced a smooth course Friday night with Saturday faring even better for the crew.
Crusader (Div. 1 IRC 4th and AMS 6th on Saturday) wasn't the only yacht to have crew members under the age of 18, with the majority of Jazz Player's crew being between 18 - 23 years old and racing very well on Saturday afternoon placing 4th in Division 1 AMS and 6th in IRC.
Midnight Rambler, helmed by Ed Psaltis, features young locals Anne Stewart (18) and Daniel Matzolic (17) who joined the crew early 2019 and are training for their first Sydney to Hobart. The boat had a spectacular race Friday night but took out the competition on Saturday afternoon with a clean sweep.
Other mentionable boats were Richard Grant's Cromarty Magellan that placed 2nd in Division 1 AMS and 3rd in PHS. Ian Johnston's Zephyr was also a close competitor coming in at 5th in Division 1 AMS and 2nd in IRC.
Sunday's weather looks to be on track for another clear day to end the weekends races.