Sidewinder – S2H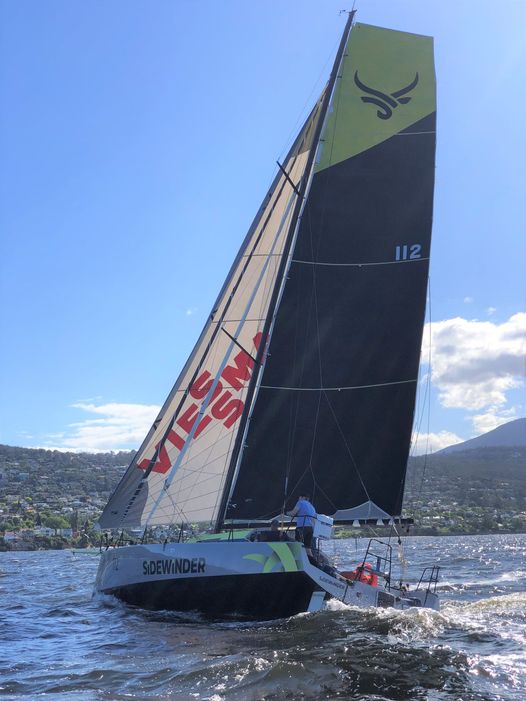 Squadron members and great mates John Saul and Rob Gough have clocked up over 5,000 Nm sailing two up together over the last few years. While many of these miles were done delivering Rob's previous boat, the beautiful Hallberg Rassy 46 'Grace', around the South Pacific, of more recent times the pair have stepped it up a fair few knots with their joint acquisition of the shorthanded racing weapon, Sidewinder, an Akilaria RC2 Class 40, designed by Frenchman Marc Lombard.
John and Rob, both with massive yacht racing CV's, purchased their well set-up offshore racer last year to have a crack at the newly created Sydney to Hobart 2-handed division, disappointed that the 2020 race was cancelled but are fully primed for this years 628 Nm trip south. The powerful rig, with the massive square top main has been seen out on the river over the year tuning up – it loves the long runs off the breeze!
John, a veteran of plenty of Sydney and Melbourne to Hobart yacht races, loves a challenging sail. In 1992, he skippered the Farr 11.6 "Quit for Life", fully crewed with his dad and some likely Hobart legends including Rod Behrens, Steve Spaulding and Dave Calvert amongst others, to win the Melbourne to Hobart yacht race overall (IMS) before, in 1997 winning line honours with the Inglis 47 "Computerland", sailing 2 handed with another Hobart legend, Royce Salter. These fella's were early exponents of the short-handed yacht racing discipline.
Rob, loves nothing better than flying on the water – literally! If it's got a foil on it, Rob will sail it flat out – moths, kiteboards, sailboard, surfboards. After winning his first world championship on a sailboard Rob was drawn to the foiling moth winning a number of Australian Championships and gaining podium finishes in Moth World Championships. With plenty of offshore keelboat miles under his belt and confirming his commitment to short-handed sailing, earlier this year in a very fresh SW breeze (actually – it was a gale warning!) and having nothing better to do on the day, Rob cranked out a Bruny Island circumnavigation, single handed, on Sidewinder in a time of 11hrs 40mins!
John and Rob form an awesome short-handed team and the Squadron wishes the Sidewinder team all the best in this years race.
Race Website: https://rolexsydneyhobart.com/
Race Start: 26 December @ 13:00
I Rolex Sydney Hobart I Cruising Yacht Club Of Australia I
Categories:
Uncategorized