The Combined Clubs Summer Pennant kicks off on Saturday with the first race in the Long Race Series, conducted by the Derwent Sailing Squadron. Including courses in Storm Bay and the Channel, as well as transiting the tricky River Derwent, the race will see a fleet of over 40 boats greet the starter at 10:00.
Group 1 will include last year's Pennant winners Midnight Rambler (Ed Psaltis) and Intrigue, this year skippered by Don Calvert's son David. While Don is no longer listed as skipper no-one expects Intrigue to be anything other than her consistent, ultra-competitive self.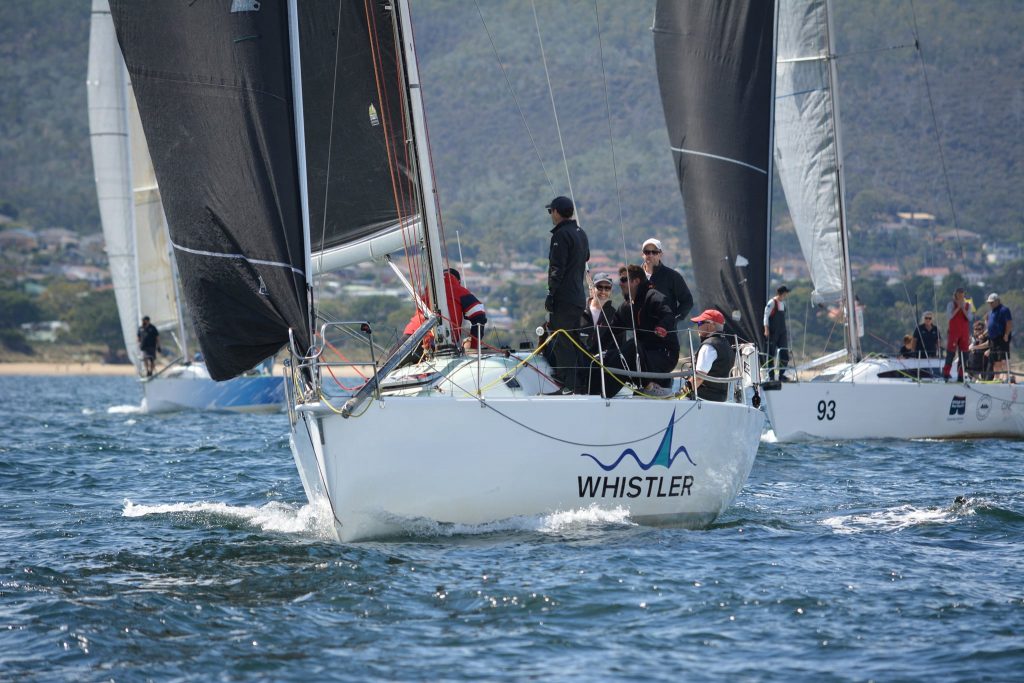 These two leaders will be shadowed by Drew Latham's Whistler, a close match for Midnight Rambler and ever competitive.
The big boat numbers have been bolstered by the addition of Andrew Jones' AdvantEdge, an Inglis 47 showing the benefits of a significant recent makeover. AdvantEdge showed her wares by taking line honours in last Sunday's Channel Race and is crewed by a better than handy group of young dinghy sailors.Group 2, which last season was dominated by Mark Ballard's 42 South, has seen a change of ownership of the Elan S4 Frontline, renamed Small Gains and skippered by Steve Chau, owner of last year's Group 3 standout Young Lion. Chau is joined by three of Tasmania's best women sailors in Claire Brown, DSS Sailing Manager Colleen Darcey and Tammara Potter. Add DSS Past Commodore Scott Brain calling tactics and we will see one very competitive outfit.
Ian Marshall from BYC has acquired the modified Mount Gay 30, the former Wild West now called simply Y, and will give the bigger boats in the Group a run for their money. Traditional contenders such as Glenn Roper's Natelle Two and Peter Masterton's Pirates Pride should not be discounted if the weather suits.
Group 3, no longer dominated by Young Lion, will see a new leader with a group of well-sailed boats including Footloose (Stewart Geeves), Serica (Charles Peacock), Invincible (Bryan Walpole), Rumbeat (Justin Barr) and Off Piste (Paul Einoder) all contenders for the crown.
In Group 4, last year's Pennant winner Camlet Way (Steve Mannering) returns to defend her crown, a task made a little easier with the absence of runner-up Wayatih (Allan Morgan) which has been sold. However, Ian Smith and Dean Aberle sailing Innovator and Peter Alcock in Kindred Spirit will ensure she doesn't have it all her own way.
Words: Nick Hutton
Photos: Peter Watson & Colleen Darcey