Combined Clubs Winter Series 2020 – Race 2
Yacht racing finally returned to the River Derwent today, with the fleet of 53 boats, crewed by 370 sailors, enjoying near perfect racing conditions on a sunny winter's morning with a 10-15 knot nor'nor'westerly breeze.
The honour of leading the big fleet across the finish line in the Combined Clubs Winter Series went to Mike Pritchard's Cookson 50, Oskana, a past overall winner of the Sydney Hobart Yacht Race. Carrying her massive Code 0 spinnaker on the reaching and running legs, Oskana led Division 1 from start to finish, winning outright on corrected time by just 36 seconds from John Dryden's Bakewell-White Z39, Jazz Player. A fine third went to the Melges 32, helmed by Jacinta Cooper in the absence of her husband, SB20 champion Brett Cooper, and her predominantly youth crew of daughters Indy (14) and Jorja (16) Cooper, Howard Tapping (16), Jack Allison (17), Charlie Goodfellow (17) and his father, Richard Goodfellow.
Although they didn't figure in the top half dozen boats on corrected time in Division 1, the 36-footers figured in some close racing with the Mumm 36, B&G Advantage (Jeff Cordell) placing seventh, Midnight Rambler (Ed Psaltis) eighth, Whistler (Drew Latham) ninth and Heat Wave (Matthew Keal) 10th, all finishing within three minutes.
Bellerive Yacht Club conducted the race, with sailing manager Michael Faure delighted that they had managed to hold the second scheduled race of the Combined Clubs Winter Series after last Sunday's no wind, no race. "It was a wonderful day for a return to sailing on the Derwent, lovely conditions and a big fleet," said Mike, who steered his own boat Piya, a venerable Thunderbird 26, into fourth place in Division 4. "We had quite a fresh breeze at the mid-river start but it faded late in the morning with seven boats not finishing in Division 2. Unlike the RYCT and DSS, BYC is using mid-river starts and finishes, sending the divisions on three different versions of the club's winter races last year.
From the start, Division 1, 2 and 3 went to a windward mark off Rosny Point, with Division 4's first mark off Kangaroo Bluff. From there the boats had a close reach across the river and then a spinnaker run back across to the Eastern shore.
Division 2 also saw an outright win, with line and handicap honours going to the sports boat Temptation, skippered by Steve Harrison from Australia's southernmost yacht club, Port Esperance Sailing Club at Dover, 77km south of Hobart. Second place went to the syndicate owned Twitch, a Eureka 31, third to Ian Johnston's Farr 41MX, Zephyr.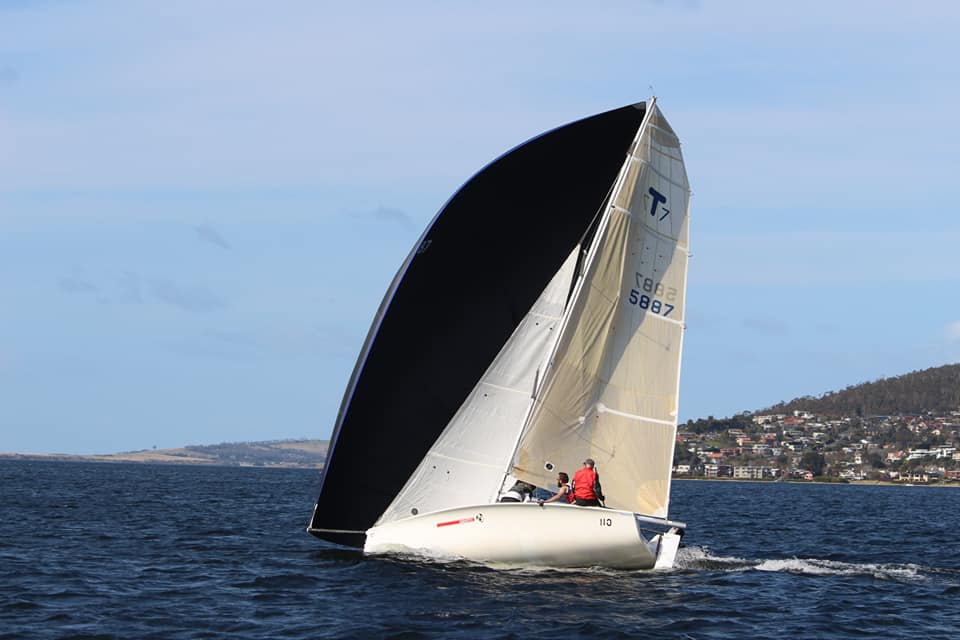 A fleet of 17 boats contested Division 3, with the SB20 Mind Games (Phil Reid) leading the fleet home and winning on corrected time from Just Jones (David Wyatt) and the syndicate-owned Wildfire, a Farr IMS 31.
Division 4 also saw an outright win, Zest (Matt Westland) winning from Another Toy (Michael Kennedy) and Serenity (Graham Hall).
Words: Peter Campbell
Photos: Peter Watson
26 July 2020