The Taz Racing Team youth team of Will Sargent (19), Jacob McConaghy (18), Ed Reid (14) and Harry Gregory (12) have taken the SB20 Australian fleet by storm winning the Spring Bay Mill SB20 Australian Championship on Spring Bay in Triabunna.
The young sailors went into the final day of racing two points behind the world number five Brett Cooper (Aeolus) but held their nerve against the talented and quality fleet to take the championship by three points.
Race Nine was a critical race for Sargent who, like most of the fleet, went left off the start line in a move which paid dividends, while Cooper lost ground going right off the line, recording their worst result of the regatta.
In Race Ten, the wind shifts that dominated the championship caused more headaches for the Race Committee with several general recalls and one race abandonment adding to the frustration and tension on the start line. The 15 knot southerly breeze finally settled enough to get the race away once more and this turned into a match race between Cooper and Sargent. Sargent's game plan was to sail Cooper down the fleet as he was carrying a higher drop from day one of racing, and this paid off for Sargent.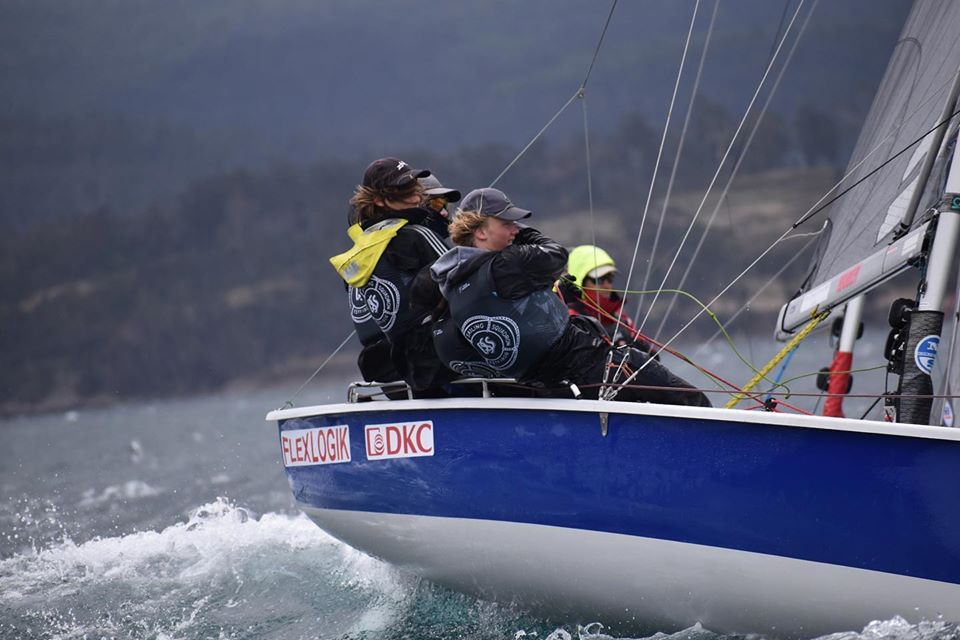 Sargent, who was aiming for a top ten finish and to defend his 2019 youth title, was thrilled with his result winning the overall championship and successfully defending the youth title.
Race Officer Ian Ross reflected on the championship and noted the talent across the fleet with nine of the ten races won by different teams. "The racing over the three days was incredible with so many winners. The last day was tricky but they [Sargent and Cooper] settled it on the water which is the best way it could happen," said Ross.
The SB20 Australian Women's title was won by Felicity Allison (Cook Your Own Dinner), with Bridget Hutton, Issi Declerck and Jill Abel. Nick Rogers (Karabos), sailing with Simon Burrows and Will Keyes was boat of the day winning the final race in convincing style, taking second in Race Nine and defending his Masters' title.
This year was the first time the fleet had sailed on Spring Bay and while they were challenged by the local conditions, the championship provided an opportunity to bring fast one-design sailing to the regional town of Triabunna in an event that was supported by over 40 volunteers from the Spring Bay Boat Club and Hobart, both on and off the water.
Full results available at: https://dssinc-results.org/…/summer/SB20auschamps/series.htm
Words and Images: Jane Austin