The Australian SB20 fleet returns to the River Derwent this weekend to contest the 2018 Australian Championship. The Derwent Sailing Squadron will host the three-day regatta, sponsored by Performance Automobiles Subaru, which is shaping up to be a hotly contested event. This event comes after a spectacularly successful 2018 SB20 World Championship held earlier this year.
Reigning Australian Champion Brett Cooper, with his crew of Darren 'Twirler' Jones and Nick Corkhill, sailing SB20 Aeolus, will be taking on a classy field when they defend their Australian title. Jones, who has recently returned from Italy and the Canary Islands following the Melges 20 and Melges 32 Worlds, Cooper and Corkhill were the best-placed Australians in the 2018 Worlds which were also sailed in Hobart, finishing in sixth place. But skipper Cooper doesn't think their title defence will be easy.
"We know that the effort we put in last season, including the gear that we put on the boat, the new sails and the optimising of the boat, doesn't have to be done again; and the experience that we gained from the Worlds will hold us in good stead for this regatta.
"However, we haven't done a lot of sailing over winter whereas the Porco Rosso and Export Roo teams have been sailing extensively in Europe and have done very well, so no, it won't be easy," said Cooper.
So what will be the key for Cooper?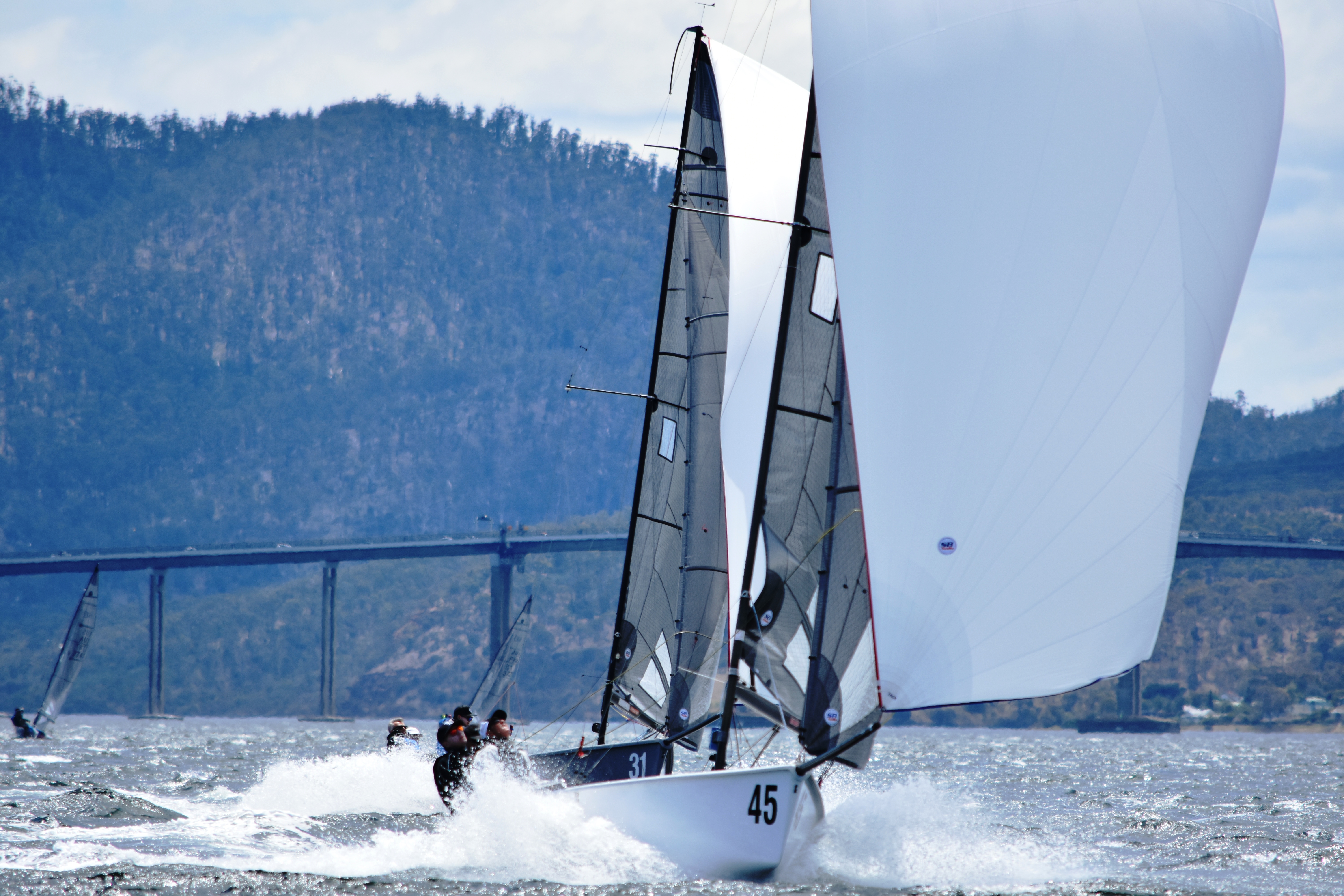 "Boat handling is absolutely everything – we know our boat can go well in most conditions, but we have a little bit of work to do in the sloppy conditions – we are trialling a few different things in sail shape and mast rig tension, but our crew work needs a bit more honing," said Cooper.
Cooper will be keeping a close on Andrew Smith (Smigger) who will be keen to see the national trophy change hands. Smith and crew Lewis Noye will be sailing with local and internationally renowned sailor Tim Burnell and will be looking for a podium finish. Burnell sailed on Marvel from Great Britain during the 2018 Worlds and nursed a few broken ribs around the course for his trouble. He will be hoping for smoother sailing next weekend.
Another challenger is Elliott Noye, helming Porco Rosso, with his crew of Paul McCartney and Ed Snowball. The Porco Rosso team has been taking in the European summer, sailing in Portugal and Ireland, where the crew took second place in the 2018 SB20 European Championship which was sailed on Dublin Bay.
Michael Cooper (Export Roo) has once again teamed up with David Chapman (tactics and mainsheet) and Hobart-based Sam Tiedemann (bow) for the event. Cooper admitted that the crew will need to blow off a few cobwebs before the weekend, although with Chapman fresh from the Farr 40 Worlds and Cooper having sailed well in the Melges 20 Worlds in Italy, they should be right up there.
Cooper expects to see 30 boats on the water which he regards as a positive for the SB20 Class, including boats from Victoria and New Caledonia.
"We thought that after the 2018 Worlds in January, things might soften up in the Class, so to have close to 30 boats backing up for the Nationals shows the strength of the Class in Australia," said Cooper.
Other teams to watch are Nick Rogers (Karabos), David Graney (Wedgewood), Paul Burnell (Honey Badger) and Frazer Read (Pinch). They have been sailing the SB20 Pre-Xmas Summer Pennant and are in the groove for the summer season.
The Women's Championship is also shaping up to be a tight contest. 2018 SB20 World Champion Clare Dabner has taken a break from the Class leaving the door open for Athena Sailing skippers Colleen Darcey (Pride of Athena) and Anna Reid (Essence of Athena), or Felicity Allison (Cook Your Own Dinner) to take the Australian crown. Reigning Australian Champion Clare Brown (Fire of Athena) is not defending her title.
The Derwent Sailing Squadron's Will Sargent (Taz Racing Team) will helm an SB20 for the first time in the event. Sargent, skipper of The Friends' School team which won the Australian Schools Match Racing Championship last month, will be up against The Hutchins School Sailing Academy's Will Cooper (Murray Jones) and Jacob McConaghy (Warwick Dean), in what will be a closely contested Youth Championship. Anna Reid (Essence of Athena) will also be keen to show the progress of the Athena Sailing/St Michael's Collegiate School sailing program as the only female entry in the Youth Division. 2017 SB20 Australian Youth defending champion Sam King will be on board Difficult Women, which will be helmed by highly fancied Finn sailor Jock Calvert.
SB20 Australian President Stephen Catchpool is looking forward to sailing in the regatta.
"We are fortunate to have a very strong team running the regatta, with Ian Ross as Race Officer heading up a dedicated team of volunteers who have run many races for us over the last few years. We are also flying in Rob Ware from Victoria and Nev Willis from Queensland to complete our national jury. I think it's going to be a terrific regatta and a wonderful spectacle on the River Derwent," said Catchpool.
The early forecast is for light breezes and showers.
Racing runs from1pm on Friday 30 November to Sunday, 02 December.
For results, images and daily news, go to https://dssinc.org.au/olddss and SB20AUS Facebook and Instagram.
The SB20 was designed by Tony Castro and is a slick and spectacular one-design class sports boat with a crew weight limit of 270kg.
Words and images: Jane Austin