Women sailors have thrown down a challenge to Hobart's leading yachtsmen in the Derwent's most exciting and competitive one-design class, the SB20 sports boat.
Joining already experienced and successful SB20 skippers, including Colleen Darcey, Clare Brown, Claire Debner, Jill Abel and Alice Grubb in the Summer Pennant is teenager Issi Declerk.
Issi is one of Hobart's most talented young woman sailors, recently co-skippering the winning Friends School Girls Team at the Interdominion Schools team championship on Melbourne's Port Phillip.
The teenager has been sailing since her younger years in International Cadets out of Sandy Bay Sailing Club, representing Tasmania at a national and international level.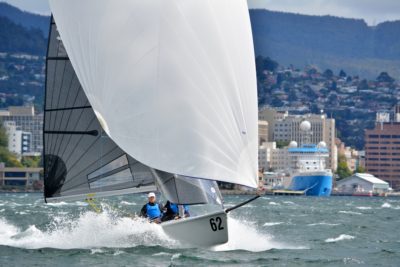 In the SB20 class on Thursday evening, Issi will be helming, with an all-female crew, Power of Athena, one of four boats owned by the Athena Sailing Group for female sailors.
Claire Dabner will be steering Essence of Athena, Clare Brown Fire of Athena and Colleen Darcey Pride of Athena.
Jill Abel will be at the helm of Cook Your Own Dinner, owned and sailed by a group mothers of prominent youth sailors at Sandy Bay Sailing Club. Alice Grubb will be steering Big Ted.
The SB20 summer pennant starts this evening as part of the Royal Yacht Club of Tasmania/Derwent Sailing Squadron combined Thursday twilight races.
Competition is certain to be keen this summer as the River Derwent SB20 fleet, in association with the RYCT and the DSS, is hosting the Australian championship in early December and the World championship in early January.
SB20 skippers include many of Hobart's most talented sailor, s, including past national and world champions in other classes.
With 45 boats on the register, the Derwent fleet is by far the biggest in Australia and one of the largest regular racing fleets in the world.
More than 40 yachts have entered the RYCT//DSS twilights, including Michael Pritchard's Cookson 50, one of two Tasmanian boats in the Rolex Sydney Hobart Yacht Race.
Other prominent racing yachts competing in the three divisions include Philosopher, War Games, Whistler, Wild West, Wings Three and Xephyr.
Words: Peter Campbell
Photos: Michelle Denney, Peter Watson, Jane Austin
4 October 2017