Tasmania's Export Roo, skippered by Michael Cooper, has lost the 2017 SB20 world championship title by just two points after a final day of frustrating competition on The Solent, off Cowes, England.
In a surprise result, prominent British yachtsman Jerry Hill came from fifth place going into the last Gold fleet race day to snatch overall victory with a win in the only race sailed.
Despite the last race loss, Export Roo sailed a fine series against an international fleet of 79 boats. The performance of Cooper and his crew of David Chapman and Gerry Mitchel augers well for the next SB20 worlds, to be sailed on Hobart's River Derwent next January.
In between sailing, the Tasmanian crews have been promoting the Hobart worlds with European sailors and are confident at least 20 boats will be shipped here to join the local fleet of 45 SB20s making a total fleet of 65 plus.
Just one race was sailed on The Solent on the final day, in light winds, with prominent British SB20 sailor Jerry Hill clinching victory with a win in Sportsboatworld.com.
The light, shifty breeze held out long enough for team Sportsboat.com to secure a strong lead before the rest of the Gold fleet well into a windless hole.  Sadly, a further race was not possible, giving Export Roo no opportunity to regain the overall lead.
Hill had a net score in the Gold fleet racing of 32 points with placings of 5-13-4-1-1 discarding his qualifying score of 21 points.
Export Roo placed 3-2-10-24-14 after going into the finals with a qualifying score of 5.
Third place went to the French boat Give Me Five (Robin Follin) with a net 39 points.
Jerry Hill had indicated earlier that he will coming to Hobart to  contest the 2018 worlds on the Derwent, and now he has to defend his world title.
Next best placed of the Tasmanian boats was Porco Rosso (Elliott Noye) which placed 13th overall, finishing 10th in the final Gold fleet race.
Difficult Woman (Rob Gough) finished 18th overall, Black (Nick Rogers) 23rd and the RSYS entrant Brazen (Jervis Tilly) 33rd in the Gold fleet.
In the silver fleet Hypertronics (Stephen Catchpool) finished 11th overall with a third in the last race. Smigger (Andrew Smith) placed 16th, placing ninth in the last race.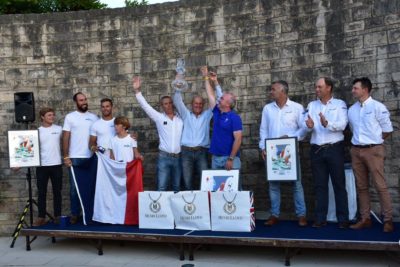 The Australian team of Export Roo, Porco Rosso and Difficult Woman placed second to Great Britain in the Nations Cup, Nick Rogers in Black placing fourth overall in the Masters results and Porco Rosso (Elliott Noye) finished fifth out of 62 boats for the Corinthian trophy.
Words:  Peter Campbell
Photos:  Australian SB20 team
2 September 2017