Derwent Sailing Squadron boats Emotional Rescue and Wings Three today each clinched overall first place in their divisions of the Ronald Young & Co Builders Pipe Opener Series.
Emotional Rescue, Michael Hutchinson's Hobie 33, won the AMS division while Wings Three, a Northshore 38 skippered by Peter Haros, won PHS division 1.
The Pipe Opener, the traditional spring regatta leading up to the Combined Clubs racing summer season out of Hobart, began with a night race on Friday followed by the Cock of Huon race on Saturday. The Series ended today with a morning race from Port Huon to Gordon, giving the fleet a taste of sailing on the River Derwent, D'Entrecasteaux Channel and the Huon River.
While DSS boats were successful overall, honours in the final race went to Rad, Brent McKay's fast Radford 35 from Kettering Yacht Club, and Saturday's Cock of the Huon winner, Michael Bartlett's sports boat Another Girl Another Planet. Rad led the fleet from Port Huon to Gordon and on corrected time won PHS division 1 and the AMS division. Another Girl Another Planet also was first home in Division 2 and won on handicap.
Rad won the race from Port Huon to Gordon.
Emotional Rescue's AMS win was close, the only monohull product of the famous Hobie catamaran family, winning by just one point from Peter Haros' Northshore 38, Wings Three with Rad placing third overall.
In PHS division 2, a countback gave Jim Thorpe's Beneteau First 33.7, Hydrotherapy from Bellerive Yacht Club first place from Emotional Rescue due to the sailing instructions stating the winner if tied will be be broken in favour of the boat having the best result in the first race of the series. Third place went to the new Jeanneau 349 , Jeffrey Sharp's French Connection, representing the Huon Yacht Club.
Wings Three's consistent score of 2-3-2 gave her overall first place in PHS division 1 from another DSS yacht Force Eleven owned by Tristan Gourlay and Jamie Cooper with Rad a close third.
Cock of the Huon, Another Girl Another Planet, skippered by Michael Bartlett, won the PHS Division 2 of the Saturday afternoon race after a close duel around the course with Emotional Rescue, with the two yachts finishing 39 seconds apart.
However, on corrected time, Another Girl Another Planet reversed the order, winning by 4 minutes and 45 seconds. Her corrected time was the lowest of the fleet, giving her the Cock of Huon title.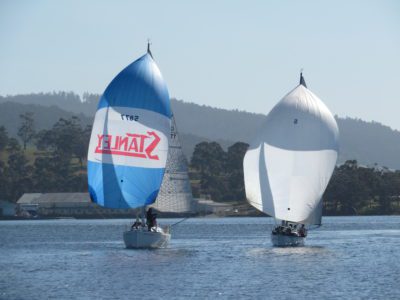 Under the rules of the regatta, with the Cock of the Huon coming from division 2, the next three boats moved up a place meaning with Another Girl Another Planet winning the Huon Aquaculture Cock of the Huon race saw first place in Division 2 going to Emotional Rescue, second to French Connection and third to Anthony Ellis's Moonshadow.
Words: Peter Campbell
Photos: Anna Dawson
17 September 2017