Only one point separates the two top-placed yachts in Divisions 1 and 3 of the Derwent Sailing Squadron's Winter Series.
Sunday saw day three of the DSS series, sailed in a steady northerly breeze on a bleak and showery morning on the Derwent. The forecast saw all three divisions depleted by non-starters.
A third place in Division 1 on Sunday lifted the classic eight-metre class yacht Juana, skippered by Jock Young, into first place. However, Juana's margin is just one point from Gary Cripps Ciao Baby II which placed fourth.
A beat to windward on the first leg of the race saw War Games (Wayne Banks-Smith) open up a big lead and take line honours, but the winning margin it was not sufficient to beat the lower rating Zypher (Ian Johnston).
The Latham Syndicate's J24 T42 Another Toy scored its third successive win in Division 2 to open up a commanding pointscore lead from Sunday's runner-up, Mark Ballard's 42 South, and Moonshadow (Anthony Ellis).
T42 Another Toy is on 3 points after race three of the five race winter series, with 42 South on 9.5 and Moonshadow on 10 points.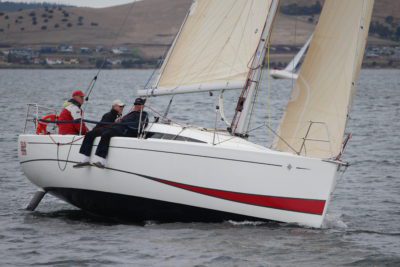 Mark Ballard's 42 South finished second in Division 2.
The leader board is really tight in Division 3 with Serenity (Graham Hall) and Vistula (Greg Biskup) both on 6 points after they finished second and third respectively to Trad Jazz-NT (Christopher Thomson) which is on 7 points.
In the SB20 one-design sportsboat class, Paul Burnell and his sons had a good day's sailing with Honey Badger, with a first and a third in the two races sailed.
Former Sharpie champion Frazer Read won the first race from Karabos (Nick Rogers) and Honey Badger with the Burnells taking the second, race seven of the winter series, from Big Ted (Tom Stearns) and Team Musto (George Peacock).
After seven winter pennant races for the SB20s, Honey Badger is on 14 points, Team Musto 19 and Difficult Woman (Rob Gough) on 22 points.
Gough was a non-starter on Sunday, as he is currently in Europe, contesting the foiler Moth Italian championships.
Words: Peter Campbell
Photos: Peter Watson/Michelle Denney
24 July 2017