Two world championships in the SB20 one-design sports boat class are now firmly in the sights of prominent Hobart yachtsman Michael Cooper – the first on The Solent off Cowes in England, the second on Hobart's River Derwent.
On the Derwent today, Cooper steered Export Roo to a convincing win in the SB20 Tasmanian State championship, extending his two-point lead at the end of day one to a winning eight point margin.
Cooper steered his European-based SB20, also named Export Roo to fifth place in last year's World championships as Cascais, Portugal.
Consistency throughout the regatta was a key fact in the victory for Cooper and his crew, David Chapman and Sam Tiedemann.
A win in the first race today, sailed in the freshest breeze of the weekend, gave Export Roo at extra boost towards victory.
With a scorecard of 3-2-5-2-1-4-(10) Export Roo finished with a net score of 17 points, comfortably clear of Karabos (Nick Rogers) who lifted from fourth at the end of day one to second on 25 points from a score of 7-(21)-1-8-4-2-3.
Third place overall went to Balios (Matthew Pilkington on 28 points (1-(18)-1-8-4-2-3) with Porco Rosso, skippered by former top New South Wales Laser sailor Richard Howard, fourth on 31 points.
Throughout the regatta races were decided by seconds with the depth of the 31 boat fleet indicated by the fact that there were six different winners of the seven races only Pinch (Frazer Read) notching up two wins, Other race winners were Export Roo, Karabos, Difficult Woman (Rob Gough) and 2Unlimited (Greg Prescott). Ten different boats shared in the top three race placings.
The top-scoring women's crew was Kirsty Gray and the crew of Pride of Athena who finished 20th overall.
"This has been a good shakedown for sailors and race officers for next January's worlds here in Hobart," commented experienced race officer Ian Ross. "I think the starts of today's three races were the best starts I have seen."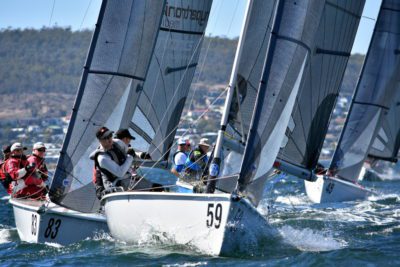 Race officers got an eighth race under way but the influence of a sea-breeze against the dying nor'wester forced them to abandon the race.
At one stage yachts were hard on the wind while at the other end of the leg boats were running under spinnaker.
The SB20 Australian championship will be sailed on Hobart's River Derwent with the Worlds here in early January 2018.
Words: Peter Campbell
Photos; Jane Austin
19 March 2017