The prestigious Lipton Cup, one of Tasmania's oldest yachting trophies, sailed for each year at the Royal Hobart Regatta, has been won by Engenue, a fast cruising yacht.
Skippered by her senior Royal Yacht Club of Tasmania member Nigel Johnson, Engenue won the Cup in Monday's Regatta Day race for the Combined Clubs Harbour Series.
The Derwent Sailing Squadron announced today that Engenue, a Kaufman-designed Huon 33 pilot house cruiser/racer, had the lowest PHS corrected time among the division winners, thus collecting the Lipton Cup for 2017.
Scotsman Sir Thomas Lipton, creator of the Lipton tea brand and the most persistent, but unsuccessful challenger in the history of the America's Cup, presented the ornately sculptured, silver trophy to the Royal Yacht Club of Tasmania in 1914
He requested that it be dedicated as a 'Perpetual Challenge Cup' for the Tasmanian One Design class.
When the One Design class eventually disbanded before World War II, the RYCT presented the Lipton Cup to the Royal Hobart Regatta.
Engenue won Division 6 of the Regatta Day race, sailed in winds that ranged from zero to gusts of 35 knots, rom Innovator (Ian Smith and D Aberle) and Rod Williams' Alibi II.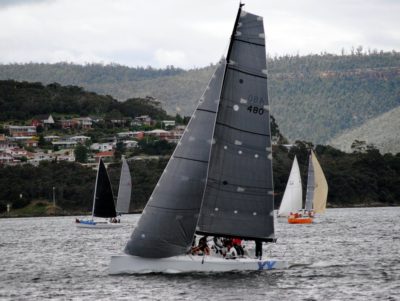 Other PHS division winners were Toby Richardson's X&Y in Division 1, Mark Ballard's 42 South in Division 2, and the 8-metre class yacht Juana, skippered by Jock Young, in Division 6.
X&Y's PHS corrected time in Division 1 was the closest to Engenue, after leading the fleet around the harbour course.
X&Y recovered well from a spectacular broach when hit by the 35 knot gust, which saw the spinnaker halyard lost and kite flying '30 metres off the masthead', according to the crew of a nearby yacht.
With little break after sailing the 89 nautical mile Bruny Island Race last Saturday, Derwent Sailing Squadron's Shaun Tiedemann and his youthful crew of Philosopher were back in winning form in the Regatta race.
Philosopher won the Division 1 AMS category from Jeff Cordell's B&G Advantage and Ian Stewart's
Tas Paints.
Philosopher won Division 1 IRC from War Games (Wayne Banks-Smith) and X&Y (Toby Richardson).
Mark Ballard's 42 South won Division 2 PH from Peter Davis' Jiyuu and Trouble (Dave Willans).
The classic 8-metre Juana, helmed by DSS memberJock Young, scored an outright win in Division 4, second place going to First Light (Ben Davidson, third to Hornet (Neville Georgeson).
Words: Peter Campbell -
Photos: Peter Campbell
14 February 2017