The late entry of the successful harbour racing yacht Philosopher has lifted the fleet to 12 for this weekend's TasPorts Maria Island Yacht Race, the Royal Yacht Club of Tasmania's longest annual long ocean race.
Philosopher's entry has created a unique duel for handicap honours between the general manager and the sailing manager of the Derwent Sailing Squadron.
General manager Shaun Tiedemann will be sailing his Sydney 36cr Philosopher while sailing manager Michael Denney will be skippering his Bakewell-White Z439.
The Royal Yacht Club of Tasmania's 180 nautical mile TasPorts Maria Island Race starts at 7pm tonight off Castray Esplanade and takes the fleet across Storm Bay and up the East Coast to round the elongated island off Orford.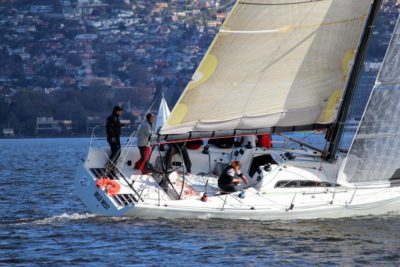 Michael and Michelle Denney's Wild West. Photo Peter Watson.
The Bureau of Meteorology has forecast fresh westerly winds this evening, continuing on Saturday, but decreasing in the late afternoon. Moderate to fresh north-westerly winds are forecast for Sunday.
This will be the first Maria Island Race for both Wild West and Philosopher, with Wild West using the race as a lead-up to the Squadron's Launceston to Hobart Race in late December.
"There's always rivalry on the water between the two skippers and their crews," commented Denney who races Wild West with his wife Michelle. "We are faster, but we need to get well enough ahead to beat Philosopher on corrected time."
Denney crew includes two of the leading crewmen from Philosopher, Shaun Tiedemann's son Sam and Elliot Noye, who have also signed up to sail aboard Wild West in the Launceston to Hobart.
All yachts except Philosopher and Cromarty Magellan have entered the National Pies L2H race, with Cromarty Magellan one of four Tasmanian boats in the Rolex Sydney Hobart fleet.
Cromarty Magellan's owner/skipper Richard Grant has managed to have the yacht's damaged rudder of the Knoop 39 repaired in time for the Maria Island Race.
The fleet also includes a two-handed entry, Force Eleven, an Adams 11, which Tasmanian yachtsmen Tristian Gourlay and Jamie Cooper plan to sail in next year's 5,500 nautical mile two-handed race from Melbourne to Osaka in Japan.
They will also contest the L2H race as their qualifiers for the marathon south to north ocean race.
Heading the Maria Island Race fleet is Gary Smith's Bakewell-White 45, The Fork in the Road and Peter Cretan's Marten 49, Tilt.
All yachts in the Maria Island Race will be fitted with Yellow Brick trackers, the same as those used in the Rolex Sydney Hobart Yacht Race.
Yellow Brick trackers have a phone app called YB Races. Download from the App Store or Android equivalent. Grab the free app, select Tasports Maria Island Race and watch the progress of the race.
Words: Peter Campbell
Photo: Peter Watson
12 noon/18 November 2016