Australia, notably Hobart, has asserted itself at the top level of international sailing in the SB20 one-design sportsboat class with the outstanding performances of Flirtatious and Export Roo at the Cascais SB20 Worlds in Portugal.
Chris Dare's Flirtatious from Sorrento Sailing Club finished fourth overall, just three points ahead of the Royal Yacht Club of Tasmania club director Michael Cooper at the helm of Export Roo.
Their performances in the 75 boat fleet, sailed by former Olympians, world champions and professional crews, is significant as Hobart will host the SB20 worlds in January 2018, with an expected fleet of 100 boats, half of the crews from Europe.
Both Australian crews finished with a flourish in the two final races yesterday, Cooper and his crew of RYCT Commodore Matthew Johnston and David Chapman had a sixth and fifth place on the final day, while Dare and his crew of Oliver Tweddle and Ella Clark, had an eighth and a fourth.
The end result was a net 97 points for Flirtatious and a net 100 points for Export Roo.
The performances of Flirtatious and Export Roo is significant as the Derwent Sailing Squadron and the Royal Yacht of Tasmania will jointly conuct the SB20 worlds in January 2018 with an expected fleet of 100 boats, half of the crews from Europe.
The World Championship went to the Russian boat New Territories, skippered by Hugo Rocha on a net 55 points from the French entry France Jeune on72 points, third to Trem Engineers (UKR) with 76 points.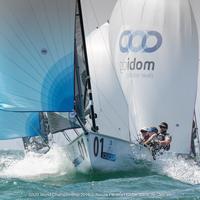 Flirtatious finished in the top ten nine times during the 14 race championship, including a second and two thirds. Export Roo finished eight times in the top ten, including one third place.
"Finishing fifth is very happy after our 10 place last year," Michael Cooper wrote on Facebook early today. "Johno and Chappo did a great job; I can't thank them enough for their support and commitment."
Australia's third entrant, Mind Games sailed by Phil Reid, Andre Declerk and Sam Ibbott and also representing the RYCT, had a luckless series which included being holed on the topsides after a collision which added a DNF and DNC to their scorecard. Mind Games placed 47th overall.
Peter Campbell
4 September 2016