Hobart yachtsman Michael Hutchinson's Hobie 33, Emotional Rescue is a rare breed of yacht design in Tasmania, also probably the only Hobie 33 in Australia, but she certainly is fast and rates well.
Emotional Rescue dominated the Ronald Young Builders/Huon Aquaculture-sponsored Pipe Opener over the weekend, conducted by Derwent Sailing Squadron and Huon Yacht Club.
The Hobie 33 is described as a monohull, lift-keel boat designed to be very light and very fast. It is considered a ULDB (ultralight displacement boat, a sportsboat.
Emotional Rescue won Friday's night race from Hobart to Green Island in the D'Entrecasteaux Channel on AMS scoring and on Saturday took out the coveted Cock of the Derwent on the Huon River, decided on PHS scoring. She was also first overall under AMS scoring for the second time.
This was the 48th running of the Pipe Opener on the Huon at Port Huon, with the start and finish at Shipwrights Point where it attracted a sizeable spectator crowd overlook the river.
Emotional Rescue is the only Hobie 33 yacht in Australia with owner Michael Hutchinson's finding the hull languishing in a paddock in Queensland. Thus the name, Emotional Rescue.
Emotional Rescue won the AMS division of Friday's night race and also PHS division 2 and on Saturday she won Division 2 and was declared Cock of the Huon, decided on PHS scoring. The Hobie 33 also won the race under AMS.
Under the rules of the Cock of the Huon, Emotional Rescue stood aside from first place in Division 2, with Young Lion (Scott Brain) then elevated to first, Moonshadow (Anthony Ellis) to second and Footloose (Stewart Geeves) to third,
Shaun Tiedemann's Philosopher took out PHS Division 1 from Zephyr (Ian Johnston) and Wings Three (Peter Haros) while Huon Yacht Club entry True Blue (David O'Neill) won Division 3 from Aqua-Fae (Don Kerr) and Kaiulani (Malcolm Cooper).
The return race, from Port Huon to Gordon on Sunday, saw Matthew Denham' Mumm 30 outsail the fleet as she had done on the Friday night race and this time she also won Division 1 PHS on corrected time.
Madness (Gavin Adamson) was second to finish and second on corrected time, Force II (Tristian Gourlay) taking third.
The Elliott 770 sports boat Ellusive (David Aplin) cleared out from the competitive fleet in Division 2, winning from Huon Yacht Club's Another Girl Another Planet (Mick Bartlett) and Footloose (Stewart Geeves).
True Blue also had an outright win in Division 3, winning from Lock on Wood (Ron Akhurst) and Take 5 (Ian Gannon).
Pipe Opener Series winners were Emotional Rescue under AMS scoring with three race wins, Force II (Tristian Gourlay) took out the Division 1 PHS pointscore with a 2-5-3 score.
Division 2 PHS went to Ellusive with a 1-6-1 result while True Blue headed Division 3 PHS, placing 3-1-3 over the weekend.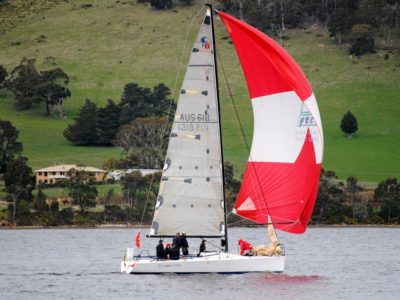 Six teams were nominated for the Ronald Young & Co Builders Pipe Opener teams series. Two teams finished equal with 7 points: Take Five, Young Lion and Philosopher and True Blue, Footloose and Madness.
Just one point astern on 8 points came the team of Lock on Wood, Cleopatra and Hydrotherapy.
Peter Campbell
18 September 2016