River Derwent sailors are a hardy lot. On this wintry morning 32 yachts, with about 100 crew aboard, contested Derwent Sailing Squadron/Cascade Winter Series with temperature in Hobart ranging between 5º and 7º during the race time.
Fortunately, the breeze did not come sweeping down from snow-covered Mount Wellington, rather there was a steady 10 knot NNW that sent the keelboats around the course in just over an hour, while the SB20s sailed two short races in about the same time.
The weather-wise Hobartians were well rugged-up against the wind-chill factor and all 20 keelboats and a dozen SB20 sports boats completed their races.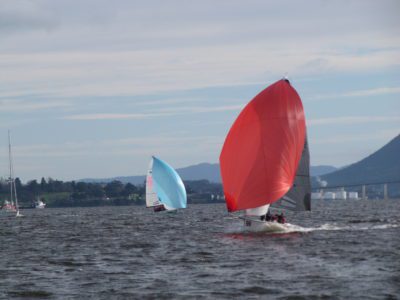 Rob Gough's Difficult Woman had a good sailing day, Photo Michelle Denney.
The SB20 fleet turned on close racing with George Peacock sailing Foreign Object to a one second line honours win in the first race from Rob Gough helming Difficult Woman. Third across the line was Sudden Impulse (Richard Fader).
Under PHS scoring, first place went to Piste (Greg Rowlings and Paul Einoder), with a corrected difference of 11 seconds to Foreign Object, third place going to Sudden Impulse.
Rob Gough's son James took over the helm for race two and scored a convincing win, finishing ust under a minute ahead of Wicked (Andrew Blakney) with Paul Burnell in Honey Badger taking third place.
Difficult Women had a top day, with first and a second placings in One-Design and first and a equal fifth in PHS. Rob Gough is now second overall in the SB20 one-design scoreboard to Wicked (Andrew Blakney) after six races.
Big Ted (Tom Stearnes) heads the SB20 leader-board, half a point ahead of Wicked. Foreign Object is third in standings.
It was a winning day for series leaders in each of the three keelboat divisions, each top yacht scoring a PHS win to strength their pointscore leads.
Ian Johnston's Zephyr won Division 1 from Temptation (Steve Harrison) and Nexedge, helmed by Darren Clark, one of the syndicate that now owns this boat.
Zephyr, with two wins and a 5th, is on 7 points, comfortably clear of War Games (Wayne Banks-Smith) on 12 points, with Temptation on 15 points.
Another Toy, the Latham Syndicate's J24, has now won all three Division 2 races, today scoring from Vasco (Graeme Harrington) and Wildfire (Jon Ettershank). Another Toy has 3 points on the board, Wildfire 8 and Vasco 13 points.
Graham Hall's Serenity also cracked a hat-trick in Division 3, winning today from Dynamo (Stephen Davidson) and Kindred Spirit (Peter Alcock). Serenity has 3 points, Dynamo 8 and Kindred Spirit 9 points.
Peter Campbell
24 July 2016