In a rare performance in Hobart yacht racing, Harold Clark's Farr 1104 Invincible today won all three Group A handicap divisions of the Combined Clubs Long Race Series sailed on the River Derwent and in Storm Bay.
Often described as having an 'invincible' rating (handicap), the Bellerive Yacht Club boat outsailed her cross-river rival, Royal Yacht Club of Tasmania's Don Calvert's Castro 40 Intrigue, under AMS, IRC and PHS corrected time scoring.
Invincible now heads the Pennant leader board in the Group A AMS and IRC divisions going into the seventh and final Combined Clubs Long Race on Saturday, February 27. In the PHS category, Invincible is just one point behind Matthew Denholm's Cleopatra.
Invincible has a remarkable record of yacht racing on the Derwent and in southern Tasmanian waters, her successes on handicap having included the Bruny Island Race, the King of the Derwent and many Pennant series.
Aside from bushfire smoke shrouding southern Tasmania throughout the morning, the Long Race (35 nautical miles for Group A, shorter distances for Groups B and C) was sailed in ideal conditions – a spinnaker run down the river before a moderate northerly breeze and a spinnaker run home in a freshening seabreeze.
The spinnaker runs, in particular the dash back up-river, certainly favoured Invincible and her winning margins in the AMS and IRC divisions were by several minutes. However, in the PHS division the Farr 1104 won by just 18 seconds on corrected time form Ian Stewart's Mumm 36 Tas Paints.
Invincible won Group A (PHS) from Tas Paints and Wings Three (Peter Haros) with Intrigue placing sixth. In Group A (AMS) she won from Intrigue (Don Calvert) and Cleopatra (Matthew Denholm), her fourth win in six races.
In Group A (IRC) Invincible also notched up her fourth win in six races, winning from Intrigue and The Protagonist (Stuart Denny).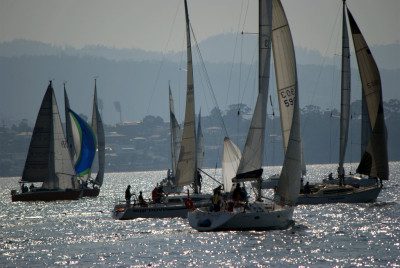 In Group B (AMS), just one point separates Silicon Ship (Wyatt & Clark) and yesterday's race winner, Take Five (Ian Gannon), going into the final race later this month.
In Group B (PHS), Victorian based Jan Harpur steered Spirit of Freya to victory in yesterday's race from Take Five and Silicon Ship. The point score margin is again one point between Silicon Ship and Take Five.
In Group C (PHS) Wayatih (A Morgan) won yesterday's relatively short race from Tarremah (L Duncan) and Peter Alcock's Kindred Spirit.
This has left Kindred Spirit and Tarremah equal on 10 points going into the final race later this month.
Peter Campbell
13 February 2016Cadets for Crown, then Worlds in Argentina