Derwent Sailing Squadron member Nat Morgan and his crew of Hot August Night should be celebrating their Royal Hobart Regatta Combined Clubs Harbour Race today with a good old cuppa.
The reason? This evening Hot August Night was declared the 2016 winner of the historic Sir Thomas Lipton Trophy.
Bellerive Yacht Club confirmed Hot August Night the 2016 winner of the ornate silver trophy after the Ben Lexcen-designed IOR 35 from the Derwent Sailing Squadron had won today's Division 2 with the lowest corrected time of all four divisions.
Sir Thomas Lipton, the Scottish merchant and creator of the Lipton Tea brand and many times luckless challenger for the America's Cup, originally donated the trophy to the Royal Yacht Club of Tasmania in 1914.
After being the perpetual trophy for the Tasmanian One Design class championships for many years, the RYCT re-dedicated it as a major yachting trophy for the Royal Hobart Regatta.
The fleet yesterday provided a spectacular yachting aspect to the Royal Hobart Regatta, twice dashing up the Derwent under spinnakers before a 20 knot sea breeze to a rounding mark off the Regatta Grounds.
Wayne Banks-Smith's Farr 40 War Games set the pace around the harbour course, which began with a long beat to windward down river to a mark off Droughty Point, followed by the first spinnaker run.
The strong outgoing current/tide saw several yachts over the line at the start, forcing frustrating returns and re-starts.
Under PHS scoring across the three divisions, Hot August Night won Division 2 with a corrected time of 2 hours 00 minutes and 24 seconds, with Division 1 winner Ciao Baby II (Gary Cripps) recording 2 hours 01 minute and 26 seconds.
The freshening sou'easter tested the helmsmen and crews, with Malcolm Cooper's Kaiulani forced to retire after wrapping a spinnaker around the forestay.
Hot August Night won Division 2 PHS from Trouble (Dave Willans) and Rousabout (Grahame Inglis) while in Division 1, Ciao Baby II came in ahead of Masquarade (Tony Harman) and Mem (Bruce Palmer).
In Division 4, Charles Peacock's metre-styled Serica won her third successive race in the Combined Clubs Harbour Series, winning today's race from Hornet (Neville Georgeson) and Zephyr (Ian Johnston).
In Division 6, Peter Limb's Spinner won her second of two starts this season, taking first place from Innovator (I Smith and D Aberle) and Peter Alcock's Kindred Spirit.
In the rated categories, BYC member Jeff Cordell, helming G&G Advantage, has notched up a remarkable sixth wins from eight races in Division 1 AMS, winning today from rival Mumm 36 Tas Paints (Ian Stewart) and Martela (Tony Williams).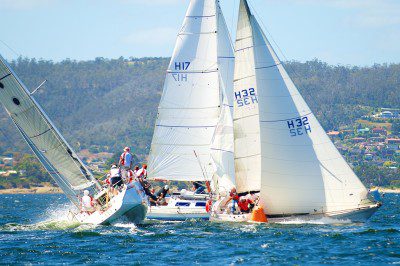 In the IRC category, Martela took the honours from B&G Advantage, third place going to John Mills and Ian Douglas's Nexedge.
After eight races for Division 1 in the Combined Clubs Harbour Series, B&G Advantage heads the leader board in all three categories: AMS, IRC and PHS, although sharing top billing in the IRC category with Martela.
In Division 2 (PHS) Rousabout and Trouble are on equal points, while in Division 4 (PHS) Serica has a handy lead from Zephyr although in Division 6 it's close, just point between Free 'n' Easy (Bob Jones) and Kindred Spirit.
Peter Campbell
0419385028