A fleet of near 40 harbour racing yachts is expected to give a colourful boost to the aquatic side of the 178th Royal Hobart Regatta next Monday, 8 February, with the overall first placegetter on PHS corrected time winning the historic and valuable Sir Thomas Lipton Trophy for 2016.
It's not a take-home trophy and after Monday's racing it will remain in the vaults of the Royal Hobart Regatta Association, but will be formally presented (albeit briefly) to the winner at a later date.
Plans are for this to take place at the annual prizegiving of the Bellerive Yacht Club which this year is conducting the Regatta Day Yacht Race, which is also Race Day 6 of the Combined Clubs Harbour Series.
Yachts in all four divisions of the Harbour Series will start and finish from the same mid-river start/finish line, between 1.30pm and 2pm, and will sail the same course in an area between Castray Esplanade, BYC1, Rosny Point and the Regatta Grounds.
To give Regatta patrons a spectacular view of the yacht racing, the fleet will round a mark between Rosny Point and the Hobart Regatta Grounds as part of their River Derwent harbour course.
The winner of the historic Lipton Cup will be the yacht with the lowest corrected time under PHS scoring in all four divisions: 1, 2, 4 and 6.
Scotsman Sir Thomas Lipton, KCVO, a self-made man, merchant and creator of the Lipton tea brand, and the yachtsman who was the most persistent challenger in the history of the America's Cup, presented the Lipton Trophy to the Royal Yacht Club of Tasmania in 1914.
It was first deeded as a Perpetual Challenge Trophy for the Tasmanian One Design class. The original Tasmanian One Design class yacht, Weene, won the trophy for nine successive years, from 1915 through to 1921, and again in 1937, 1940, 1941 and 1942.
At some stage, post World War II, the RYCT re-dedicated the Sir Thomas Lipton Trophy to the Royal Hobart Regatta and since then the names of many famous Tasmanian yachts have had their names engraved on the prestigious trophy's base, including Erica J (11 wins), Ninie (8), Francis (10), Jenny S (7), Police Car (5) and Trump Card (4).
The Sir Thomas Lipton Trophy is made of sculptured sterling silver, hall-marked 'London 1212', set on a large, silver mounted plinth and has a silver weight of 2,000gm.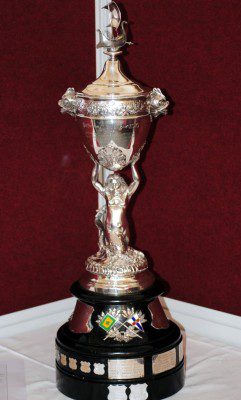 Going in race day six of the Combined Clubs Harbour Series and after seven races. B&G Advantage (Jeff Cordell) heads Division 1 in both PHS and AMS scoring, while War Games (Wayne Banks-Smith) leads the IRC category.
In Division 2, Rousabout (Grahame Inglis) holds a narrow lead, under PHS scoring, with Serica (Charles Peacock) heading the leader board in Division 4 and Free 'n' Easy (Rob Jones) the front runner in Division 6.
Peter Campbell
5 February