Windy wind-up to 73rd Sharpie Nationals
The windiest day of the past week gave the fleet in the 73rd Sharpie Nationals a day of brisk sailing on Hobart's River Derwent yesterday, dismasting one boat and forcing seven others to retire with gear damage.

With the Australian champion title already assured, South Australian Derek McCloud chose to sail a conservative race in Warpig, finishing 12th in fleet, and leaving the top boats to fight it out for the minor placings.
The more experienced Sharpie sailors enjoyed the 15-20 knot south breeze which kicked up choppy conditions on this broad reach of the river off Taroona.
Drew Latham, the last Tasmanian to win a Sharpie National title, sailed a fine race to finish third in the last race and thus gain third place overall. Second overall went to South Australian Tony Turton, who finished second in the final race.
Final race winner, West Australian boat Bullit (Ashley Gabrielson) and the only boat to win three races, ended up fourth overall.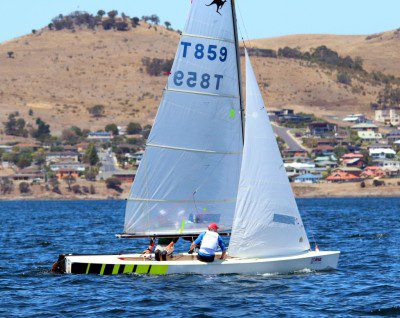 Sandy Sailing Club teenager Maddy Salter, steering Gun Smoke, finished a most commendable 10th overall, junior champion and first female skipper.
Two other SBSC Cadet graduates followed her in the final pointscore, although both retired from the last race.
Alex Bailey (Gentlemens Relish) placed 11th overall and Ollie Burnell (Bonfires) 12th in final standings.
Peter Campbell
0419 385 028