Jeff Cordell's smart-performing Mumm 36 B&G Advantage yesterday showed she will again be a strong contender for top honours in this month's National Pies Launceston to Hobart, possibly repeating her handicap victory in the inaugural race in 1977.
That year the boat, then called Host Plus Executive, won both IRC and PHS handicap categories and took line honours from the fleet of 17.
While she is unlikely to lead the fleet home in this year's 286 nautical mile race from the Tamar to the Derwent, along Tasmania's north-east and east coasts, she will start one of the favourites for handicap honours.
Several yachts entered in the ninth edition of the L2H which showed their boatspeed and tactical skills in yesterday's Combined Clubs Harbour Series on the Derwent, with B&G Advantage the stand-out.
Yesterday, skipper Cordell and his crew were in top form on a wet, rather windy and certainly cool day on Derwent for the final pre-Christmas Harbour Series, Division 1 and 2 boats sailing two windward/leeward races.
Racing began in a 15 knot south-easter which freshened to 18-20 knots during the afternoon, causing some sail-handling problems for crews.
B&G Advantage took the hat-trick of handicap results in the first race, winning the PHS category from Masquerade (Tony Harman) and X&Y (Toby Richardson), the AMS category from Martela (Tony Williams) and Masquerade and the IRC category from Martela and the Farr 40 War Games (Wayne Banks-Smith).
In race two, B&G Advantage won PHS from Martela and Tas Paints (Ian Stewart) and IRC again from Martela and War Games. The Farr 40 Wired (Stephen Boyes) won the PHS category from B&G Advantage and Mem (M Boutchard and D Kirkland).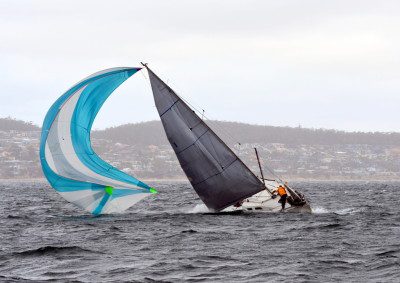 Martela is also contesting the L2H race, taking a break from the longer and time-consuming Sydney Hobart Race while another L2H entrant to win yesterday was Kiaulani, Malcolm Cooper's yellow-hulled Snook 30 which has competed in every Launceston to Hobart race date.
Kaiulani won the one race sailed for Division 6, finishing a close second across the line to Kamehameha (Frank Chatterton) and taking first place on corrected time.
In Division 4, Ian Johnston's Zephyr took line and handicap honours, winning the race from First Light (Ben Davidson) and Serica (Charles Peacock).
Division 1 saw Grahame Inglis' Rousabout score a double, line and handicap, in both races. North Sails (Matthew Morgan) was runner-up in the first race, with Trouble (David Willans) third while in race two Trouble placed second, North Sails third.
Yesterday was the third and final pre-Christmas race day for the Combined Clubs Harbour Series, with one race lost because of bad weather.
The Derwent Sailing Squadron today will launch the 2015 National Pies Launceston to Hobart Yacht Race with a barbeque for the 30 entrants.
The L2H will start from Beauty Point at 1.30pm on December 27.
Peter Campbell
6 December 2015