Royal Yacht Club of Tasmania member Grahame Inglis made a winning return to racing in yesterday's delayed start to the Combined Harbour Series on the River Derwent, but only by seconds.
Racing Rousabout for the first time since the yacht was badly holed in a collision during the winter series, Inglis had to share top honours in Group 2 with Bellerive Yacht Club member Dave Willans, skippering Trouble.
After three weeks delay in getting a race day, due to weather and other fixed sailing events, the 31 yachts in the Combined Clubs Harbour Series got a real taste of sailing, heading off into a fresh breeze, bringing choppy seas to the river as it backed from south-west to south and finally to the south-east and east.
Trouble won the first race for Group 2 on PHS corrected time by just 35 seconds from Rousabout, third place going to Hot August Night (Nat Morgan).
Race two saw an even closer duel, with Trouble beating Rousabout across the finish line by just six seconds but Rousabout winning the race by 44 seconds on handicap third in race two was Total Lock Alarms, skippered by Nathan Mills, which took fastest time in both races for Group 2.
Another BYC yacht, Ian Stewart's Mumm 36 TasPaints scored a double in Group 1, winning both races under PHS scoring and race one under AMS.
In the second windward/leeward race, another Mumm 36, Jeff Cordell's B&G Advantage, took first place in the AMS category, beating TasPaints by just 21 seconds on corrected time.
Wayne Banks-Smith's Farr 40 War Games excelled in the fresh breeze, getting the gun in both races and winning both races on IRC scoring as well as placing in race two under PHS scoring.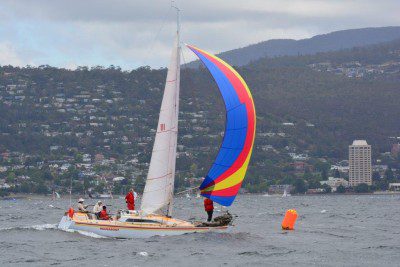 Tony Williams, who has elected to miss this year's Rolex Sydney Hobart with Martela, also had a good day with a second and a third place under AMS and two seconds under IRC scoring.
Group 6 had the biggest fleet of the day, 12 starters, and victory going to Wilkinson Frame's N-Yacht from Free 'n' Easy (Bob Jones) by 39 seconds, third to Innovator (Ian Smith and D Aberle). Frank Chatterton steered Kamehameha to fastest time.
Again, seconds separated the first two boats on handicap in Group 4 with First Light (Ben Davidson) beating Zephyr (Ian Johnston) by 44 seconds, third place going to Miss Conduct (Brian Fleming).
Peter Campbell
8 November 2015