In a remarkable result, Cleopatra, Matthew Denholm's Mumm 30, has won all three races, including the Cock of the Huon, in Derwent Sailing Squadron and Huon Yacht Club's traditional Pipe Opener Series.
Cleopatra completed a hat-trick of PHS wins when she took line honours and first place on handicap in the final race on Sunday, sailed over a shortened course from Shipwrights Point to the mouth of the Huon River.
No yacht has been so successful in recent editions of the Pipe Opener that comprised a Friday night race from Hobart heading south into the D'Entrecasteaux Channel, Saturday's Cock of the Huon on the Huon River and Sunday's race from Port Huon back to the Channel.
Light winds prevailed throughout the weekend and Cleopatra made the most of the conditions, today taking line honours and her third PHS win of the Series.
The Mumm 30 from Bellerive Yacht Club slowly overtook early leader Tas Paints, Ian Stewart's Mumm 36, and on corrected time Cleopatra won her third Division 1 race on PHS. She also won the first races on AMS but finished second under scoring to Division 2 boat, DSS Commodore Steve Chau and Scott Brain's Young 88, Young Lion.
Cleopatra won the Division 1 series with a score of 3 points, second overall being shared by Tas Paints and David Taylor's Pisces' from the Royal Yacht Club of Tasmania.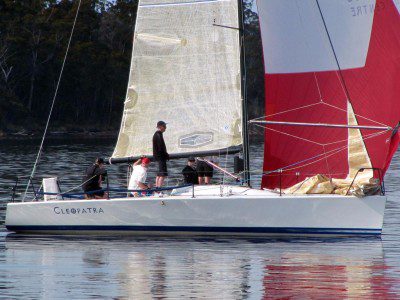 The Mumm 30 also won the AMS overall score, winning two of the three races to finish with 4 points, while Tas Paints and Young Lion (Steve Chau/Scott Brain, DSS) finishing equal second on 11 points.
In Division 2 (PHS), DSS member Michael Hutchinson won the Series in his Hobie 33 Emotional Rescue, finishing with 6 points, while Young Lion was second with 8 points. Moonshadow (Anthony Ellis, DSS) and Gomez (Noel Cook, HYC) ended equal third on 12 points.
Emotional Rescue, a keelboat built by the Hobie catamaran builders, took top Series points in race three, although the overall race winner was Huon Yacht Club casual entry Another Girl (Mick Bartlett). Third place went to Hydrotherapy (Jim Thorpe)
Division 3 boats Lock on Wood (Ron Akhurst) and Kaiulani (Malcolm Cooper) made amends in the final race after their frustrating time in the Cock of the Huon, in which the tide dragged them over the start line before the gun.
Lack of wind and the outgoing strong tide saw them unable to return and re-start and eventually they retired from that race.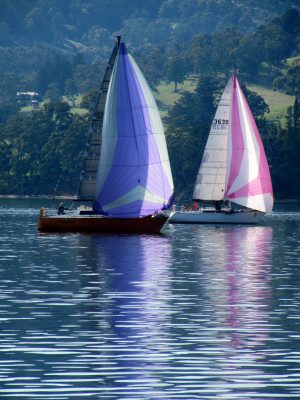 Yesterday, however, they finished first and second on corrected time in race three for Division 3 to figure in a tight overall point score which saw Take 5 (Ian Gannon finish the Series with 8 points, one point ahead of Kaiulani and another point to Lock on Wood.
Peter Campbell
21 August 2015