Sandy Bay Sailing Club's Sam Abel and Hugo Allison have a four points lead over the fleet going into the final race for the 2015 International Cadet World championship being sailed on Italy's spectacular Lake Garda overnight, Australian time.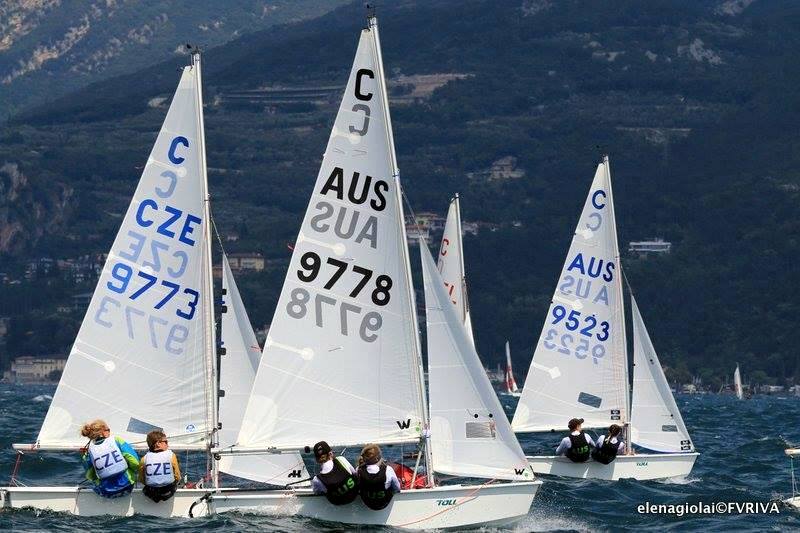 Abel (15) and his 10-year-old crew grabbed the lead as the British crew of Jamie and Bettina Harris crashed from first overall to seventh following their disqualification from race 9. Available results after 11 races are provisional pending the hearing of subsequent protests.
Principal race officer Nick Hutton elected to run three races on day four, leaving just one race on the final day tonight (Australian time).
In contrast to the fresh to strong breezes on the first three days of the regatta, day four saw light and flukey conditions and some notable changes in overall positions, with five Australian crews in the top 11 places.
Abel and Allison began day four with a 15th in race 9, but sailed consistently well in the next two race with two fourth places to have a net 32 points after two discards, one of which was the 15th in race 9.
With one race to go they are four points clear of the previously third placed British crew of Archie Penn and Hazel Whittle on 36 points and Yehor Samarin and Maksim Remez (UKR) who won two of the three races on day to be on a net 47 points.
The British crew of Jamie and Bettina Harris, who had had a 10 point lead going into day four, were disqualified by the race committee from race 9, the first race of the day, for a starting line infringement. Listed on the result sheet as 'dne' (disqualification – non discardible) it has cost them 65 points to give them a net total of 79 points.
Day four saw four Australian crews improve their overall standings: Abel and Allison (15-4-4 on day four from second to first), Angus Price and Archer Ibbott (3-12-3) from fifth to fourth on 49 points, William and Laura Cooper (2-9-40) from 14th to 11th on 118 points All three crews are from Sandy Bay Sailing Club.
Australian champions Julian Sasson and Mischa Suda (ocs-2-18) moved from ninth to eighth overall on 94 points while Marty Hood and Jack O'Donnell (10-19-36) dropped from eighth to 10th to be on 100 points.
The two Royal Geelong Yacht Club crews, Oliver Manton and Benjamin Garner (32-40-44) and Domini Randall and Ella Purnell (37-39-38) are 28th and 31st respectively.
Peter Campbell
7 August 2015