Under a bright blue moon and still with wind on their side, Philip Turner's 66-footer Alive claimed an unopposed line honours victory and may have also cleaned out the Club Marine Brisbane to Keppel Tropical Yacht Race trophy cabinet.

The 14 person crew aboard the Derwent Sailing Squadron registered boat finished the 348nm running and reaching race from Moreton Bay to Keppel Bay at 002935hrs, 29 minutes 35 seconds past midnight, this morning, August 1, 2015, in a 6kt southerly. It is the Reichel-Pugh design's third line honours win in nine Keppel races and first for Tasmanian skipper Duncan Hine and his team. On corrected time the standings have Alive provisionally leading IRC overall and division 1, ORCi and PHS overall and division 1.
Mooloolaba based navigator David Turton said their early winning move was overhauling Peter Harburg's Black Jack in Moreton Bay, "The weather was always going mean the rich got richer; being in front meant getting the first chance at everything. This boat also goes very well in light VMG running conditions, in that 6-8 knot range which is rare to get. It really lights up. "Keeping an eye on the tracker and the other boats meant we could see the angles behind as we tried to stay north of the ridge line. We made some pretty made big moves north to stay on the right side of it," Turton added.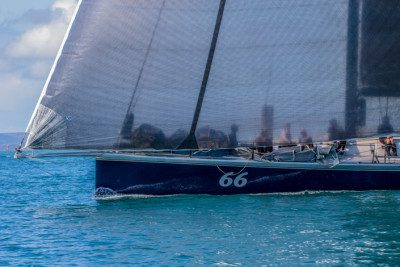 Given the rest of the fleet are labouring in light winds and the back markers are still 40 hours from a hot shower at Keppel Bay, south of Yeppoon, Turton was reluctant to reveal their top wind. "It's going to make everyone jealous but we had 17-18 knots and a rip-roarer ride once around Breaksea Spit with a reef in the main. We had an hour sitting on 15 to 18 knots then and another good ride this afternoon [Friday July 31]." On romping in so far ahead of the larger Black Jack, a Juan K design and a former round-the-world boat, Hine said, "They've done it often enough to us. It was nice to look at the tracker and see them 44 miles behind. We had a game plan at the beginning; Dave [Turton] set us the goal of getting to Waddy Point at Fraser Island by 6am to stay ahead of the breeze, and we made it."
Alive's crew for this race hail from Melbourne, Sydney, Canberra, Brisbane, Mooloolaba and Tasmania. "We've always had a diverse crew on the boat, they are amateurs and we have a lovely time, and a lot of fun," Hine added. Turner is overseas however he stayed glued to the tracker throughout and sent the crew a congratulatory text as the race sails were being dropped and stripped ready for the boat to cruise to Audi Hamilton Island Race Week and the IRC Australian Championship starting August 15, their final Australian stopover prior to setting off to compete in Asia.
Like many in the Brisbane to Keppel fleet, Alive's crew spotted plenty of humpback whales from Breaksea Spit onwards and a couple of times had to wait until the whales were well clear before gybing the slippery black-hulled boat.
Lisa Ratcliff/Peter Campbell
1 August 2015