Women skippers winners Colleen Darcy and Alice Grubb each notched up a win in the SB20 class in today's Derwent Sailing Squadron/Cascade Winter Series on the River Derwent, outsailing their male opposition in the light breeze.
In fact, the women finished just two seconds apart in the first race, with Colleen helming Brainwave in the absence of owner/skipper Scott Brain to just cross the line ahead of Alice, steering her own boat, Big Ted.
In a blanket finish, only 19 seconds separated the first five boats, with six seconds between Big Ted and the third boat to finish, Stephen Catchpool's Hypertronics.
On handicap, Alice won the first race from Anonymous, helmed today by Nick Rogers, with Brainwave third.
Race two, race seven of the SB20 Winter Series, also saw a close finish with Anonymous crossing the line just one second ahead of Hypertronics, with 29 seconds to Brainwave.
Anonymous also won this race on corrected time with Hypertronics second and Big Ted third.
After seven races, Hypertronics heads both the one-design and PHS results in the SB20 Winter Series, with Brainwave second overall on the one-design scoreboard and Big Ted second in the PHS scoreboard.
Conditions on the river were very light with the north-westerly breeze ranging from 5 to 7 knots, at one stage virtually dying away.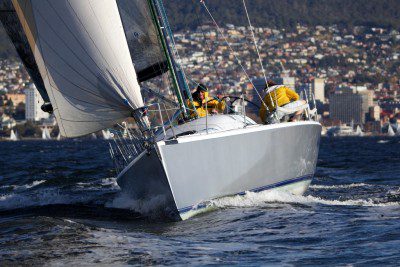 Wayne Banks-Smith had a big outright win in Division 1 of the DSS/Cascade Winter Series fleet with his Farr 40 War Games, sailing away to a 5 minute and 46 seconds line honours win.
On PHS scoring the margin was much less, War Games winning by 21 seconds from Hot August Night (Nat Morgan). Only two seconds separated second and third placegetter, Pisces (David Taylor).
Division 2 also saw an outright win to the Farr IMS 31 Wildfire (Team Wildfire), second place going the Elliott 6, E6, skippered by Matthew Morgan, third to Spare Time (Shane Powell).
A third outright winner on the day was the I550 sportsboat Which Way, helmed by Steve Davison with Ragtime (Tom Kirkland) second on corrected time from Serenity (Graham Hall).
After three races for the division fleets, War Games leads Division 1 from Hot August Night, in Division 2 Wildfire leads Rousabout, which was a non-starter today after being holed in a collision the previous Sunday.
Ragtime heads the overall leader board in Division from Serenity.
Peter Campbell
12 July 2015