Three 'epic' races with 30-knot gusts made for spectacular competition on day 4 of the SB20 World Championships on Italy's Lake Garda, with Australian champion Glenn Bourke moving up from 10th to fourth overall in the Gold Fleet.Tasmanian entrant Michael Cooper dropped one place to be eighth overall, finishing a wild third race overnight with a third place. Two other Australian crews failed to finish that race in the heavy winds.
Racing began in 20 knots, building through the afternoon to 30 knots. Jerry Hill, sailing "SportsboatWorld' in 13th overall described it as: "Classic Ora conditions. We had three cracking races – hard racing with some epic downwind legs. There will be lots of very tired bowmen in the fleet tonight, but this is why everyone comes here!"
Hamilton Island-based Bourke, steering Victorian Robert Jeffreys' boat, Red, with Sae Lilley as the other crewman, sailed brilliantly in the heavy conditions, notching up two seconds and a fourth place.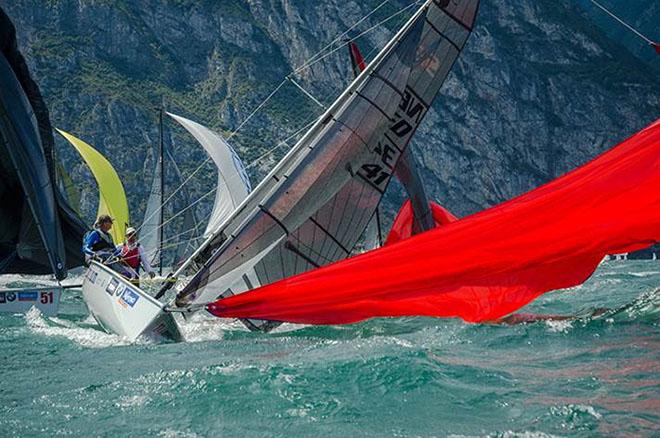 Overall, this was best scorecard of the day in the 46 Gold Fleet, lifting Red from 10th to fourth on a net 49 points after two discards.
The French youth crew skippered by Robert Follin moved to overall first place with two more races to sail on the final day, nine points ahead of the South African Roger Hudson with a Ukrainian crew in third place, eight points ahead of the Australians.
The RYCT crew of Michael Cooper, Matthew Johnston and David Chapman sailing Export Roo began day four with a 14th place followed by their worst result of the regatta, a 32nd. However, they fought back in the 30 knot third race of the day (race 12) to finish third behind the South African crew and Glenn Bourke in Red.
Red and Export Roo finished second and third overall in the SB20 Australian championship sailed conducted by the Derwent Sailing Squadron on the River Derwent last March.
Cooper said after racing: "I just love this boat, I love the people in the class, and I'm having an absolutely great time." As one of two Australian boats in the top 10, however, he really wants to beat the Poms in the SportsboatWorld-sponsored 'Nations Cup' prize (for the best aggregate score for the top three teams from each nation overall).
Of the other Australian boats, Flirtatious (Chris Dare) is 17th overall, overnight placings 21-3-dnf; Wysiwyg (Stephen Fries) is 30th (29-26-21); while Mind Games (Phil Reid) is 45th (46-39-dnf).
Peter Campbell
10 July 2015